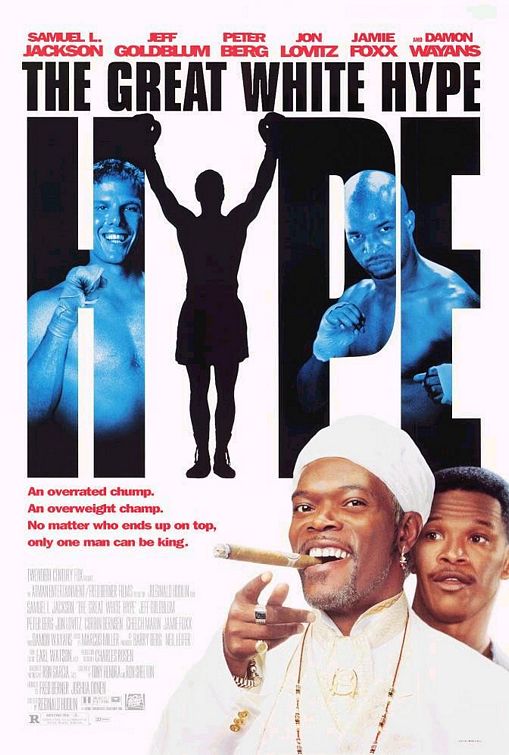 | | None | Light | Moderate | Heavy |
| --- | --- | --- | --- | --- |
| Language | | | | |
| Violence | | | | |
| Sex | | | | |
| Nudity | | | | |
What You Need To Know:
THE GREAT WHITE HYPE is about a corrupt boxing promoter who has found the perfect white contender to box the reigning black heavyweight champ. With cunning, trickery and empty promises, the Sultan played by Samuel L. Jackson stages the fight of the century, sure to pay off handsomely for all. Containing excessive foul language, slams to Christianity and constant deception, it is a lesson in corruption.
Content:
(Pa, FR, Ab, LLL, VV, SS, NN, A, D, M) Pagan worldview of conning others with favorable Islamic elements & unfavorable Christian elements; 81 obscenities, 2 profanities, 11 vulgarities & several blasphemous remarks ; moderate violence including boxing with bloodshed & knockouts, & shooting; implied oral sex, implied masturbation, salacious photos of man with many women, & suggested sodomy; cleavage & women in bikinis; alcohol use; smoking; and, lying, cheating, corruption & implied defecation in pants
More Detail:
The Rev. Fred Sultan is a boxing promoter, Islamic leader and con man. Played by Samuel L. Jackson, the Sultan comes up with the ultimate money making boxing bought in THE GREAT WHITE HYPE. After his heavyweight champ, James "The Grim Reaper" Roper, beats another man in defending the title, the Sultan cannot pay him his money. The Sultan believes people are tired of paying to see "brothers" beat up "brothers"; so, he goes off to find his great white hope, Terry Conklin, the lead singer of a rock band who beat Roper in an amateur bout years ago. Conklin is trained to look good, but the plan is to have the champ win and collect 40 million dollars. With all the hoopla and all the players looking for the big money, Sultan juggles a precarious entourage of possibilities ranging from an upset by Conklin to victory once again by the now overweight champ.
THE GREAT WHITE HYPE humorously displays the corruption and power in boxing promotions. The Sultan glamorizes crime and could entice young men to explore a criminal career. THE GREAT WHITE HYPE may be a fictional portrayal of corruption in boxing, but there may be a large degree of truth in its depictions. The movie isn't about the thrill of sport or competition, but about corruption in promotions with excessive foul language, slams to Christianity and constant deception.