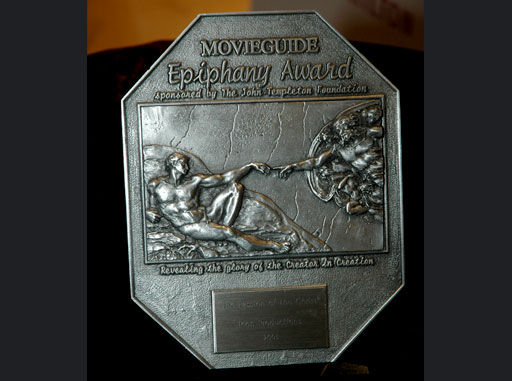 Epiphany Prize Panel Set for InkTip's Pitch & Networking Summit
Scheduled for Friday, July 22 in Burbank, CA
Hollywood, Calif. – MOVIEGUIDE® has announced the line up for the latest in its Epiphany Panel series for the upcoming Pitch & Networking Summit II presented by InkTip.
"This is a great opportunity to bring an encouraging word to Hollywood's up and coming talent," said Dr. Ted Baehr, founder and publisher of MOVIEGUIDE®: The Family Guide to Movies and Entertainment, "and we are thrilled to be working with InkTip who has been at the forefront in getting great scripts through industry doors."
Moderated by Jeff Holder of MOVIEGUIDE®, the panel will consist of past winners and nominees of MOVIEGUIDE®'s highest honor – the Epiphany Prizes for Inspiring Movies & TV supported by a grant from the John Templeton Foundation. Set for Friday, July 22, 2011 from 11:30am to 1:30pm at the Los Angeles Marriott Burbank Airport, the panel will include writer/producer Jim Britts (TO SAVE A LIFE), writers/producers James Bruner & Elizabeth Stevens (ICE DREAMS) and acclaimed Hollywood producer Larry Thompson (AMISH GRACE).
Titled "Spiritually Uplifting Family Movies and Television," the panel will focus on the booming growth of faith and family based entertainment and will use the most recent Report to the Entertainment Industry statistics gathered by MOVIEGUIDE®.
The John Templeton Foundation (www.templeton.org) serves as a philanthropic catalyst for research relating to what scientists and philosophers call the Big Questions. It supports work at the world's top universities in such fields as theoretical physics, cosmology, evolutionary biology, cognitive science, and social science relating to love, forgiveness, creativity, purpose, and the nature and origin of religious belief. It also seeks to stimulate new thinking about wealth creation in the developing world, character education in schools and universities, and programs for cultivating the talents of gifted children.
Dr. Baehr is chairman of the Christian Film & Television Commission® (CFTVC) ministry and its family guide to movies, Movieguide® (www.movieguide.org). CFTVC and Movieguide® are an international non-profit ministry dedicated to "redeeming the values of the entertainment industry by influencing industry executives and by informing and equipping the public about the influence of the entertainment media."
For more information on the Epiphany Prizes, visit www.epiphanyprizes.com