Published: August 5, 2021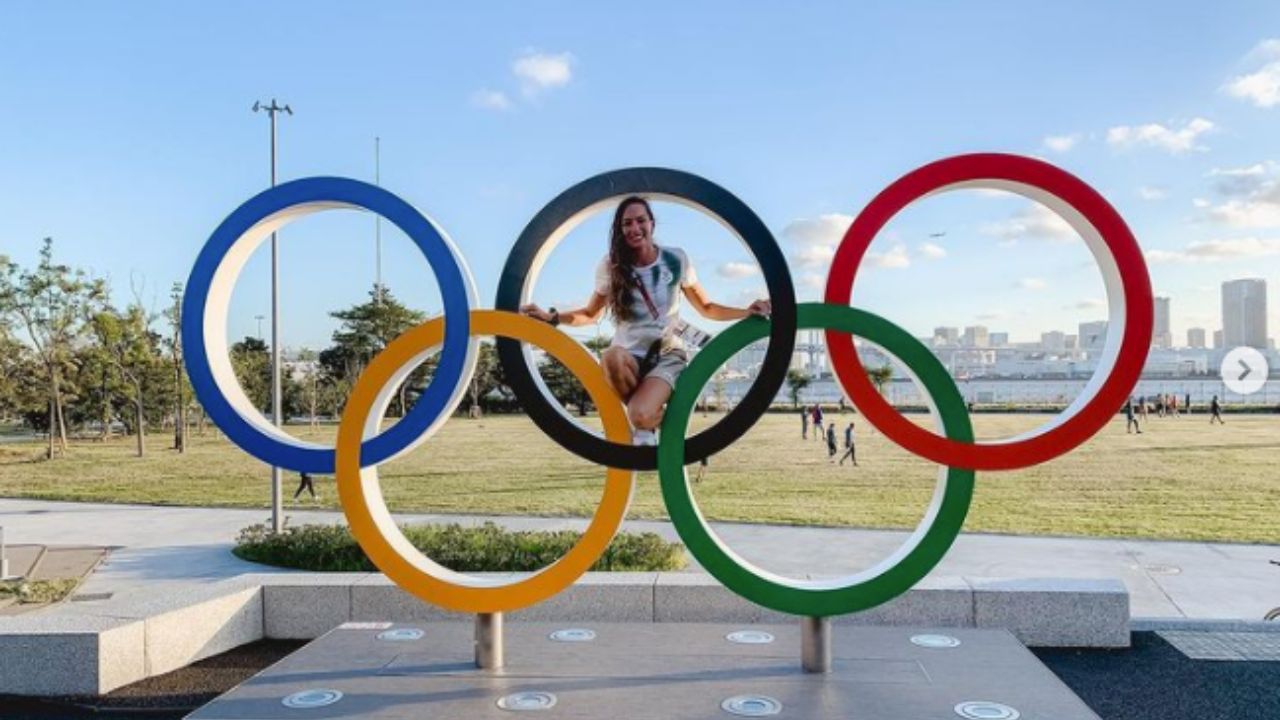 8 Olympic Medalists Who Give Glory to God
By Movieguide® Staff
With only a few more days before the long-anticipated 2020 Olympic Games come to a close, here is a brief list of just some of the athletes who used the world stage as a platform to point to God. 
Listen: Movieguide® Staff discuss Nightbirde, the Olympics and more in their new podcast! 

1. Sydney McLaughlin 
Not only did U.S. Olympian Sydney McLaughlin win the gold medal for Team USA in the 400-meter hurdles, but the 21-year-old also set a world record with a time of 51.46.
After McLaughlin's win, she said that it was made possible by "just trusting the process and giving the glory to God."
The outspoken Christian posts about her faith often on her Instagram.  
"Let me start off by saying, what and honor it is to be able to represent not only my country, but also the kingdom of God. What I have in Christ is far greater than what I have or don't have in life," she wrote on Instagram after her Olympic run. "I pray my journey may be a clear depiction of submission and obedience to God. Even when it doesn't make sense, even when it doesn't seem possible. He will make a way out of no way. Not for my own gratification, but for His glory. I have never seen God fail in my life. In anyone's life for that matter. Just because I may not win every race, or receive every one of my heart's desires, does not mean God had failed. His will is PERFECT. And He has prepared me for a moment such as this. That I may use the gifts He has given me to point all the attention back to Him. 2x Olympian, Olympic Champion, World Record Holder, Thank. You. God. 🙏🏽"
2. Hidilyn Diaz
Hidilyn Diaz became the first Filipino Olympic gold medal winner after her victory in the women's 55-kilogram division for weight lifting.  
After Diaz's historical performance, she credited God with her success. 
"Thank You, Lord," was Diaz's immediate response, according to Catholic News Agency.
"I thank God for having a team who is there fighting and working together for one goal and one dream for the Philippines. We will grow together towards #Tokyo2020," she wrote on Instagram before the Olympic games. 
3. Tatjana Schoemaker
Tatjana Schoemaker made Olympic Games history after setting the new record for women's 200-meter breaststroke in Tokyo.
Despite the momentous occasion, the swimmer from South Africa gave all glory to God.
Beneath her green swimming cap, Schoemaker wore a white cap with the words "Soli Deo Gloria," which means "Glory to God alone," printed on the side. It also featured a blue Jesus fish.
"LET THE GAMES BEGIN 🙏🏻🇿🇦," she wrote on her Instagram before her performance. "Father God may your will be done, may your peace fill us up, may we praise you no matter what the outcome, may we be empowered by your strength to give it our all and may we forever be in the awe of your goodness! Thank you for bringing us to this very moment 🙏🏻."
4. Caeleb Dressel
American swimmer Caeleb Dressel won five gold medals at the Tokyo Olympics and broke his world record by .05 seconds in the 100-meter butterfly. 
Dressel used his success to champion his central motivation: his faith in God. 
The 24-year-old sports an eagle tattoo on his left shoulder, which represents one of his favorite Bible verses, Isaiah 40:31: "But those who hope in the Lord will renew their strength. They will soar on wings like eagles; they will run and not grow weary, they will walk and not be faint."
"It's the reason I'm in the sport—not just to go fast times, but to inspire people and show them where I find my happiness with what God's given me," Dressel told the Baptist Standard in 2015, adding in 2016: "Trust what God is doing, whether it be a rough point in your life or a top pinnacle in your life. You've just got to take pauses and really trust what He's doing."
5. Tamyra Mensah-Stock
American Olympic wrestler Tamyra Mensah-Stock thanked God and her country after winning her first gold medal in the Tokyo Olympics.
"Of course I surprise myself," Mensah-Stock told reporters. "It's by the grace of God I'm even able to move my feet. I just leave it in His hands and I pray that all the practice … my coaches put my through pays off and, every single time, it does."
The athlete expressed how proud she is to represent the U.S. in the Olympics. 
"It feels amazing," she said. "I love representing the U.S. I … love living here. I love it. And I'm so happy I get to represent USA!"
6. Kendra "Keni" Harrison
In her first Olympic games, U.S. track and field athlete Kendra "Keni" Harrison took home the silver medal in the 100-meter hurdles. 
However, she is no stranger to the spotlight, as she still holds the world record that she set in 2016.  
"I'm the WORLD RECORD HOLDER 12.20. I am a walking testimony of how incredible God truly is," she said at the time. 
Despite not going to Rio in 2016, Harrison said she is thankful for the opportunity she had in Tokyo. 
"Missing the Olympic team in 2016 has made me a stronger Christian athlete and words can't describe the gratitude I'm feeling right now," she wrote. "In 2016 I allowed self-doubt to determine my destiny and became a victim to track & field press. BUT GOD…As I gained a deeper connection to God each year I noticed my faith conquering ALL doubt." 
7. Kelsey Plum
Basketball player Kelsey Plum lifted the USA women's 3×3 basketball team the gold medal.
Plum thanked God for her health and the opportunity to compete.
"I just want to thank a lot of people: God, my mom, my family, my friends," Plum said. "I want to thank USA Basketball. They could've quit on me. They could've said, 'We're going to bring somebody else,' and they didn't. I'm just super grateful to my teammates, I mean, man, this was a battle."
"I kind of had to go through life and figure out what's important," Plum told Sports Spectrum in 2019. "It takes a lot of failure and mistakes and humility to be able to see that I need a relationship with God."
"I'm super grateful because I think that He's always really been very precise about exactly where He wanted me to be and He's put certain people in my life to really help me," Plum said in an interview in 2020. "I'm just super grateful, so I think for me, as I continue to grow into a woman and a woman of faith, I try to make sure that I'm a light."
8. Athing Mu
At just 19-years-old, U.S. runner Athing Mu is an Olympic gold medalist. Mu won gold in the women's 800-meter race at the Tokyo Olympics.
"As a follower of Christ, our main goal is to live in the image of Jesus in order to connect to God and 'get to God," Mu told The Battalion in June. "I believe when God is ready to give you blessings, He gives it to you with all intentions. In this case, 'keeping one at the top, never at the bottom.'"
Mu referenced Deuteronomy 28:13, which reads: "The Lord will make you the head, not the tail. If you pay attention to the commands of the Lord your God that I give you this day and carefully follow them, you will always be at the top, never at the bottom."
"The only thing I can do is thank God because without Him, I wouldn't be able to do anything I've done this season," she told WomensRunning.com. "I think He's really awakened me with one thing, especially, that's confidence. That's one thing I've really gained this year as a collegiate athlete, having confidence in all I do because I do have the capability, I was made for this."