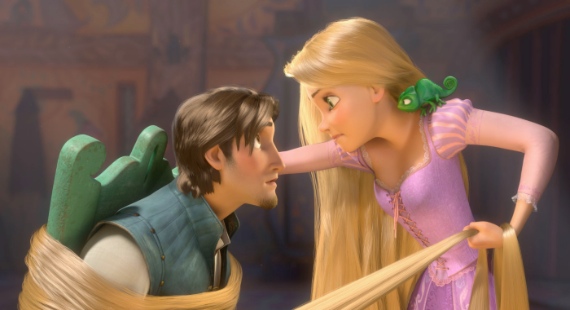 Their Dream Jobs Are 'Crazy Awesome'
By Dr. Tom Snyder, Editor
Working on one's dream job can be "crazy awesome."
Just ask Zachary Levi, star of the hit spy series on NBC-TV, CHUCK, and the voice behind the lead male character in Disney's new animated fairy tale, TANGLED, loosely based on the story of Rapunzel, the gal with the long, flowing golden hair.
Zachary, actress Mandy Moore, who plays Rapunzel, and the movie's two directors appeared at Disneyland recently to talk about TANGLED.
"This is the first voiceover job I've


had, even though I've dreamt about doing it my whole life," said Zachary, a confessed "Dis-Nerd." "I'm such a cartoon kid. I was raised on them."
---
Zachary says working on a Disney animated movie is "crazy awesome." For an example of what he means, he cited the title character in Disney/Pixar's WALL-E.
"You feel for him more than you feel for real actors doing other movies," he said. "That's how good those guys are. So, when I found out John Lasseter [who's in charge of Disney/Pixar's animated movies] and that collective genius were going to be overseeing all of this, I'm like, I'm in great hands!"
What was he most surprised about when he finally saw the final 2D version of TANGLED?
"What really grabs you is how beautiful it looks," he said. "Other than that, what surprised me is just how well all those scenes and characters interact seamlessly. It's really cool how it all comes together."
Zach thinks the entertainment business is all about the audience.
"I'm very blessed to do what I do," he said. "It should never be about us; it should always be about what do they [the audience] want. What's fun for them? They're the only reason I get to keep a job."
Although TANGLED proves Zach has a wonderful singing voice, don't expect a musical episode for his hit spy series on NBC-TV, CHUCK.
"I don't know that is such a great idea," he said. "That would be like, Here's the shark, and this is us jumping it."
Mandy Moore is the voice of Rapunzel, not only in the dialogue but also in the musical numbers.
One of the things that attracted her to the movie was Rapunzel's heroic qualities, but that wasn't the only thing.
"I loved the idea that, in her entire life, Rapunzel was told that her 70 feet of long, magical hair was what made her special, that set her apart from everyone else. That ended up not being the case. It ended up the special magical qualities were within her the entire time. And, I loved that Flynn loved her even more when he cut her hair off, when she was just herself. "
---
"I still can't believe I'm at a press junket at Disneyland and the movie's done," she said. "It's so crazy, it's so weird!"
"We're just trying to tell great stories," Co-Director Nathan Greno said about their job.
Nathan also co-directed the Disney hit and MOVIEGUIDE® Award winning movie BOLT with his TANGLED Co-Director Byron Howard.
"We want people to love TANGLED and get lost in the story," Nathan said. "If you're too aware of the hair, or the music, or the voices, then you're not in the story."
The TANGLED merchandise, seeing characters from TANGLED walk the streets of Disneyland and the possibility of a Broadway version doesn't bother the two young directors.
"That's what's great about this company," Byron said. "Your work can live on in so many different ways."
Nathan added, "We really worked hard at bringing something fresh and different."
The two directors are thrilled that TANGLED also happens to be Disney's 50th animated feature.
"It's a huge honor," Nathan said. "We had a lot to live up to."
"We love the legacy of Disney, the classic films," Byron added. "We knew we had to live up to those great standards."
Nathan and Byron always planned to do TANGLED in 3D.
"We were always aware of how this was going to look in 3D and what was going to pay off in 3D," Byron said. "And, not in a gratuitous way that it looked like some gimmicky thing. 3D used in the correct way actually brings you into the story; it enhances the storytelling."
The schedule was the most challenging thing in making TANGLED, Byron said.
"The movie itself didn't suffer," he added. "The quality is beyond what we dreamed it could be. The people who suffered were our crew, because they spent an awful lot of time away from their families. They will work themselves into the ground as long as they know they're working on something of quality. That's really our responsibility, to give these geniuses something of highest quality to work on. They'll give you their all no matter what kind of story you've got, but if you've got something they can be really proud of, that's all worth it."
Byron said John Lasseter, who heads Disney's animation efforts these days, wants the writers and directors at Disney to work on things they themselves are most passionate about.
"John is completely supportive about that," Byron said. "It's a great environment. Ultimately the responsibility falls on our shoulders."
"TANGLED has so much heart and humor," Nathan said. "It's such a big wild roller coaster of a movie. . . that's the kind of movie we're interested in making."
Light versus dark is a major theme in TANGLED, not only in the story but also in the movie's beautiful images, from Rapunzel's shining magical hair to the lanterns her real parents release to find their daughter.
"Rapunzel is trying to find her place in the world," Byron added. "She's trying to find herself. Mother Gothel [the villain] keeps her in the dark. Rapunzel's trying to find her way out of the darkness, who she is and where she belongs."