Published: January 24, 2022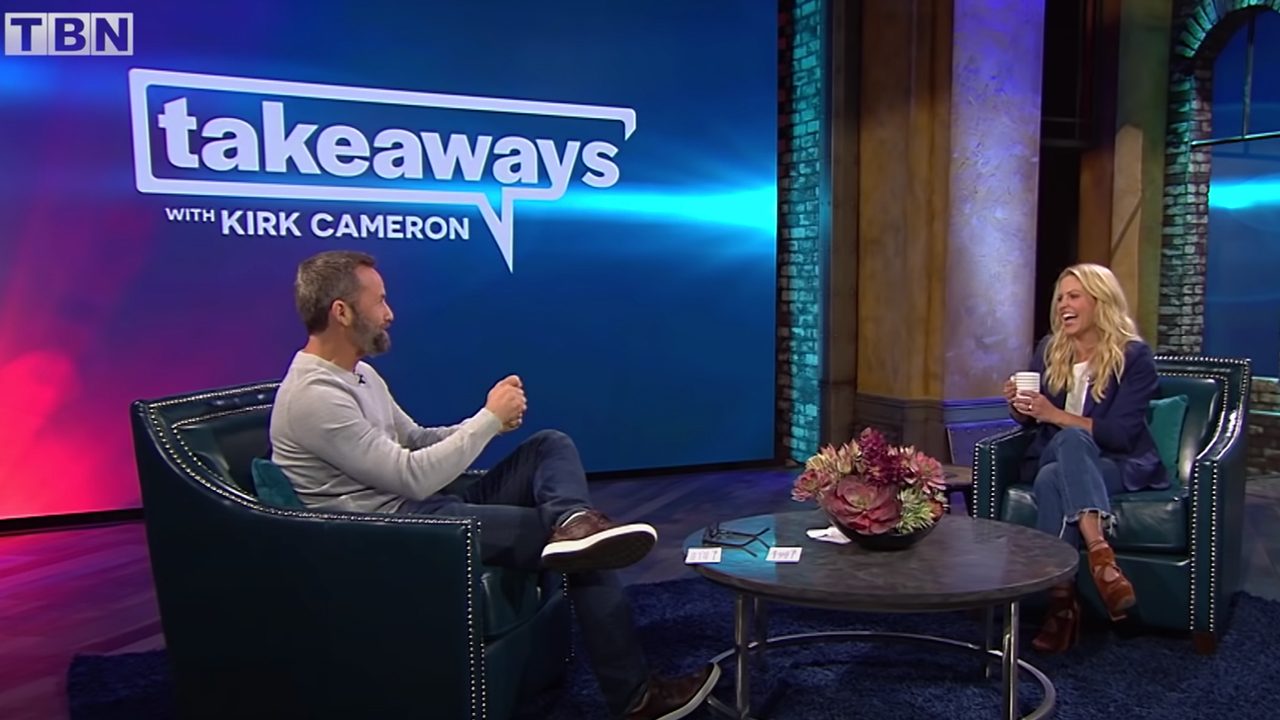 Kirk Cameron, Candace Cameron Bure Share the Secret to Staying Faith-Filled in Hollywood
By Movieguide® Contributor
Two of the most popular stars of the 1980s and '90s were siblings Kirk Cameron and Candace Cameron Bure, who starred in GROWING PAINS and FULL HOUSE, respectively.
Despite their individual rise to fame, Kirk and Candace said that they never viewed one another as a rival.
"Siblings are rivals, but not us," Kirk said on a recent episode of his show TAKEAWAYS. "There's no competition, ever. I mean, look, everybody knows GROWING PAINS was a much better show than FULL HOUSE."
While the siblings share success in Hollywood, they also share their outspoken Christian faith.
"What are the chances that two kids in the same family would not only be on TV, but come to faith in the Lord and then see the value of using platforms…like this to be able to encourage people?" Kirk asked his sister. "The Bible says encourage each other and build each other up, and I just want to take a minute and say you've been a huge encouragement to a million people, but also to me."
Both Kirk and Candace are bold about their faith in an industry that is often hostile towards opposing viewpoints.
"[You are] unashamed and unafraid to share your faith everywhere you go," Candace said. "Thank you for being so bold, and sharing your faith and making me feel comfortable to do the same.
"I know that the Holy Spirit gives us the fruit of the Spirit when we're in Christ…because God gives us self-control, that's something we need to have when we're in those hot topics and divisive conversations… it's important to represent Christ well," she added.
Candace also noted how faith plays a central role in her relationship with her husband, Valeri Bure.
"The foundation of our marriage in God is what has got us through the valleys, and the low points…and [we] have come through beautifully," she said.
Tension arose early in their marriage when Candace felt as if her faith matured and Val's did not. However, Candace chose to lead by example, noting that  "Val did come to Christ."
"We were baptized together; he actually baptized me…it was pretty incredible," she said, adding that Val became the spiritual leader of their household.
As parents, Kirk and Candace shared the importance of teaching children God's Word.
"If we plant the seed of wisdom, the Book of Proverbs says that the wisdom that we've planted in their heart and in their mind will speak to them," Kirk said. "We've got to let them make their own decisions… the consequences will prove that every word of God is true."
While the duo are not shy about sharing the truth, they also discussed how to tell people about the Gospel in love.
"Kindness takes effort," Candace said. "And I think that's why it's so challenging. We have to learn it, we have to apply it. It becomes an action. We have to be mindful of it.
"We can still be kind and loving, but speak truth, and stand up for God," she added. "It's about being calm and sober in demeanor…the question is how can we be kind without being a doormat for somebody."
"God's going to work the whole thing out right in the end," Kirk added. "He's still working all things together for good for those who love him," he continued. "I know that nothing's going to separate me from the love of God."