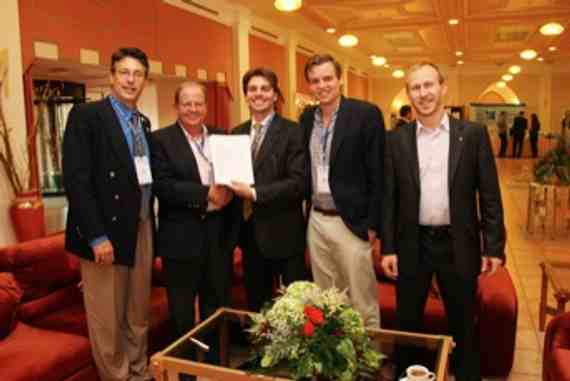 (l-r) Vice President of the Howard Center for Family, Religion & Society Larry Jacobs, Movieguide® Publisher Ted Baehr, Movieguide®'s Russia consultant Alexey Komov, Movieguide® COO Robby Baehr, and Alexey's colleague Igor Beloborodov celebrate in Rhodes, Greece the completion of Movieguide®'s agreement to establish an outlet in Russia.
________________________________________________________________________________________________________________
Movieguide® has just signed an agreement to publish Movieguide® in Russia and produce an event equivalent to the Faith & Values Awards Gala and Report to the Entertainment Industry there.
Movieguide® Russia will be headed by Alexey Komov, a Christian family advocate and professional marketing and real estate consultant and entrepreneur.
"A large portion of the Russian population is concerned about the mass media's assault on the family," Komov said. "There are Russian children who have been influenced to commit suicide and children who have been influenced to become prostitutes."
Alexey hopes Movieguide® Russia will have the same influence in Russian helping families to be media wise and helping Russian filmmakers be responsible as Movieguide® in the United States.
"This is a great step forward for Movieguide®," said Movieguide® Publisher Dr. Ted Baehr, chairman of the Christian Film & Television Commission® (CFTVC), the only Christian advocacy group working in Hollywood.
"The vision for Movieguide® Russia is profoundly wide and deep. It complements our work for Movieguide® in Germany."
In addition to heading up Movieguide® Russia, Mr. Komov is the representative in Russia for the World Congress of Families (WCF), of which Movieguide® is also a Partner. WCF is a coalition founded by Dr. Alan Carlson, president of the Howard Center for Family, Religion & Society.
CFTVC and Movieguide®, the Family Guide to Movies and Entertainment, are an international non-profit ministry dedicated to "redeeming the values of the entertainment industry by influencing industry executives and by informing and equipping the public about the influence of the entertainment media."
For more information, visit https://www.movieguide.org/about-movieguide or call 1-888-248-6689.