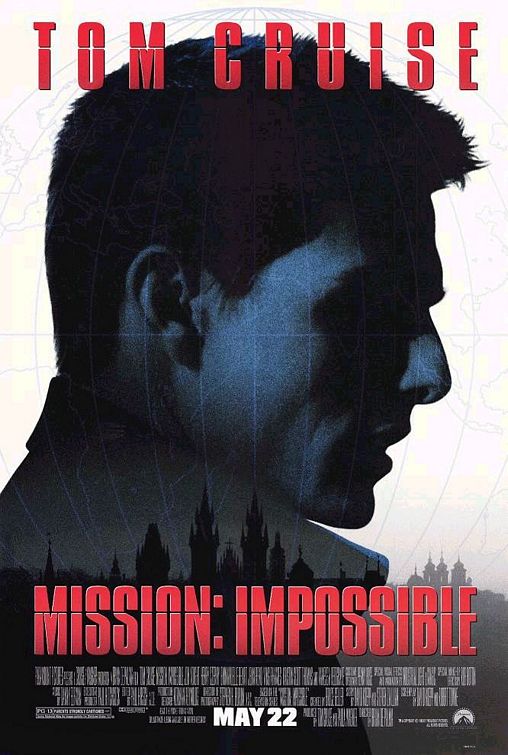 | | None | Light | Moderate | Heavy |
| --- | --- | --- | --- | --- |
| Language | | | | |
| Violence | | | | |
| Sex | | | | |
| Nudity | | | | |
What You Need To Know:
In MISSION IMPOSSIBLE, Tom Cruise plays Ethan Hunt who has been pegged as a mole in the intelligence community. Ethan knows that he is not, but he must employ brain, brawn and the Bible to outwit his adversaries and flush out the real mole in an exciting finale. Including some obscenity and profanity, the movie forgoes any sex and the violence is purely action adventure.
Content:
(B, LLL, VV, A, D, M) Moral worldview where truth wins out, Scripture is quoted & the Bible saves the hero in a unique way; 23 obscenities & 11 profanities; action violence where the actual bloody event is not shown, but the consequences of stabbings, shootings & explosions are shown in a mild way; many life threatening cliffhanger type scenes where the person survives; no sex; no nudity; drinking; smoking; and, lying, deception, fraud
More Detail:
MISSION IMPOSSIBLE, the movie, opens with the MI team trying to flush out a scoundrel who is trying to steal a list of all the classified CIA undercover agents in Eastern Europe. In the process, several of the MISSION IMPOSSIBLE team loose their lives and we find out that Tom Cruise playing Ethan Hunt has been pegged as the possible mole in the heart of the intelligence community. Ethan knows that he is not, but he must find a way to vindicate himself. Therefore, he decides to steal the list of covert agents by teaming up with other agents who have been disavowed. Hot on Cruise's tail is Kittridge, the top man at Mission Impossible. Through brain, brawn and the Bible, Ethan outwits his adversaries and flushes out the real mole in an exciting finale.
MISSION IMPOSSIBLE is well written, well produced and well directed. The movie forgoes any sex, and the violence is pure action adventure. The movie moves quickly and keeps you on the edge of your seat. It relies to a large degree on the cleverness of the situation and the audience trying to figure out who is a good guy and who is a bad guy and whether the whole thing isn't just one big sting operation. The major flaw in the film is an excess of profanity, although there are several positive references to God and the Bible. Tom Cruise has produced an intriguing spy thriller.