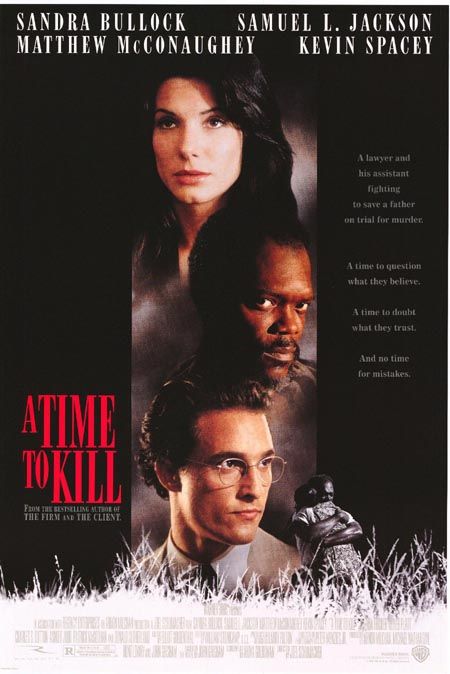 | | None | Light | Moderate | Heavy |
| --- | --- | --- | --- | --- |
| Language | | | | |
| Violence | | | | |
| Sex | | | | |
| Nudity | | | | |
What You Need To Know:
A TIME TO KILL is a carefully crafted emotive attempt at surgically removing the cancer of racism. It is a difficult film where more than justice hangs in the balance. When a black father kills two white men in retribution for the murder of his daughter, a white attorney sacrifices everything to defend him. Violent, gritty and containing some strong language, it is a difficult, but powerful movie that shows that we are all sinners in need of God's grace.
Content:
(C, LLL, VVV, A, D, M) Christian worldview which examines the issues of man's law, God's Law and Grace and which includes negative portraits of black and white individuals and groups that try to use Christianity for their own purposes; 41 obscenities & 4 profanities; extreme violence including on-off camera rape of little girl, shootings, clubbing, hangings, torching, a man burns in his clan outfit, a woman is hung from a post to die, houses burn, man is beaten up, man is knifed, woman is beaten up; no sex except off-camera rape; no nudity shown though woman's blouse is torn off & a man has to remove pants for medical treatment; alcohol use; smoking; and, racism including cross burning, deceit, misuse of funds.
More Detail:
A TIME TO KILL is a carefully crafted attempt at surgically removing the cancer of racism. It is a story of Carl Lee Hailey, a father whose young daughter is cruelly attacked by two drunk white men out to harass the Black community. It is also the story of a young lawyer, Jake Brigance, who defends Hailey after he murders these white rapists in the courthouse. Around this courtroom drama swirls a tornado of racist passions. On one side is the KKK, re-established in the wake of Carl Lee's vigilante justice. On the other side, are the NAACP and the black church who are trying to use the case for their own purposes. We soon learn that all men are sinners, including Jake, who took this case at the expense of all of his loved ones.
Novelist John Grisham's faith is the foundation of this story, but there are those in the film who misuse and abuse this faith and the film seems to condone vigilantism as it plumb's the depths of racism. The movie doesn't treat the fact that Jesus died for our sins, but it has moments of forgiveness. Regrettably, the violence is raw, but not exploited. The language is raw, but Jesus' name is not misused. A TIME TO KILL contains something to upset everyone, and yet at its core, it tells us that we are all called to love our brothers.