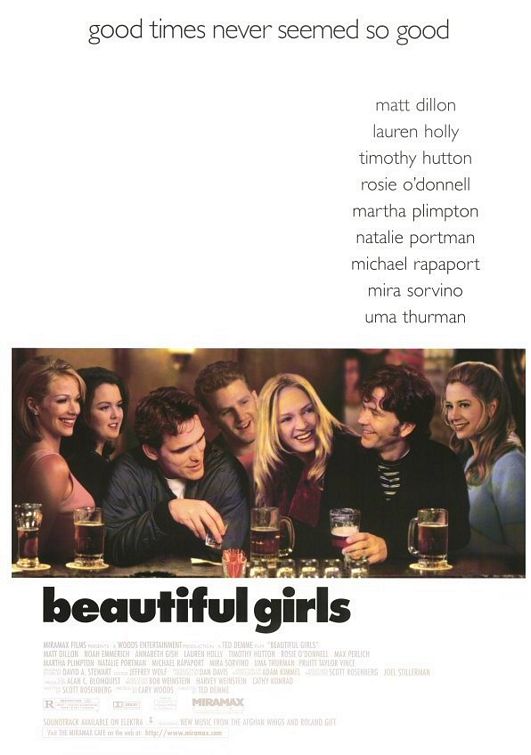 | | None | Light | Moderate | Heavy |
| --- | --- | --- | --- | --- |
| Language | | | | |
| Violence | | | | |
| Sex | | | | |
| Nudity | | | | |
What You Need To Know:
BEAUTIFUL GIRLS is about some handsome and not-so-handsome boys and the beautiful girls that they love. The main story is about Willie as he comes to grips with his romance with his girlfriend, Stacy. It is a poignant, but sometimes boring drama that includes many obscenities, but tells a tale condemning adultery.
Content:
(B, Ro, LLL, V, SS, N, A, D, M) Moral worldview with romantic elements; 75 obscenities & 3 profanities; one brief but graphic assault scene, attempted assault and vandalism; sexual talk, innuendo, implied fornication & adultery, pornography use; one brief scene of woman in underwear; alcohol use; smoking; and, retribution themes
More Detail:
BEAUTIFUL GIRLS is a poignant, but sometimes boring drama about some handsome men and the beautiful women they love. Set in the snowy, fictional town of Knight's Ridge, Massachusetts, the movie shows Willie Conway taking a bus from New York to Knight's Ridge to visit his widowed father. Willie is having hard luck as a pianist and is completely ambivalent about his relationship with his lawyer girlfriend, Tracy. Arriving in town, he meets his old buddies Tommy and Paul. These fellows, while popular in high school, have gotten nowhere and plow snow for a living. Tommy is having an adulterous affair with his now married high school sweetheart. Paul, meanwhile, has proposed marriage to his girlfriend, Jan. Willie meets a smart, but very young girl named Marty and a beautiful girl named Andrea. Both women set the emotional stage for Willie as Tracy prepares to make a visit to his home — a visit that will determine both of their futures.
This muddled but charming film contains an all-star cast including Rosie O'Donnell, Timothy Hutton, Matt Dillon, Lauren Holly, Martha Plimpton, and Uma Thurman. Though condemning adultery and pornography use, it does contain a great deal of obscenities and depicts flawed, misguided men struggling to gain love and respect without a moral compass to guide them.