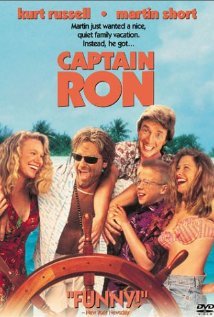 | | None | Light | Moderate | Heavy |
| --- | --- | --- | --- | --- |
| Language | | | | |
| Violence | | | | |
| Sex | | | | |
| Nudity | | | | |
What You Need To Know:
CAPTAIN RON is the story of a corporate executive who leaves his job to take to the high seas in a dilapidated boat with a long-haired, one-eyed, hedonistic, self-appointed captain. This comedy about a long, strange trip includes mild language, a couple attempting sex in the shower, juvenile alcohol consumption, and a profane reference to the healing power of Christ.
Content:
(H, L, NN, SS, M) Hedonistic humanism; 8 obscenities & 8 profanities; man and wife attempt sex in shower & sexual innuendo, man, young boy and prostitute play strip monopoly, girl flirts with 2 boys, saying that her engagement is "not a problem"; and, juvenile alcohol consumption & gambling.
More Detail:
The maritime fantasies of Martin Harvey (Martin Short) apparently come true when he receives a fabulous sailboat from his uncle's estate. Regrettably, the boat is in a decrepit state. However, nothing could prepare the Harveys for the decrepit state of the ship's skipper, CAPTAIN RON, a one-eyed, hedonistic disaster. Ron inadvertently burns the map, loses the ladder, anchor and compass, and lets ten-year-old Ben drink beer. As the journey progresses, Martin becomes increasingly disgusted at the ease with which Ron is stealing the attention of his family. An ambush by Caribbean guerillas, jail, expulsion from Puerto Rico, and attack by pirates are met with comic results by Ron's dopey panache and Martin's hysterical anxiety.
Kurt Russell is surprisingly amiable as Captain Ron, and Martin Short turns in a likeable performance as a yuppie sailor. However, some moments are lousy, as when Martin and Kitty attempt sex in the shower and almost drown. Also, no one will be amused by Ben's beer drinking, nor the ridicule of the healing power of Christ. Although not as objectionable as other recent comedies, CAPTAIN RON could still use a stiff shot of family values.