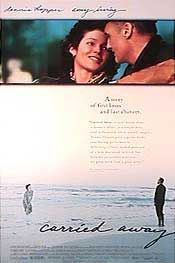 | | None | Light | Moderate | Heavy |
| --- | --- | --- | --- | --- |
| Language | | | | |
| Violence | | | | |
| Sex | | | | |
| Nudity | | | | |
What You Need To Know:
CARRIED AWAY takes place on a small rural farm where a country school teacher gets involved in a sexual relationship with a student in order to find the missing passion in his life. In so doing, he jeopardizes his relationship with his long-time lover. The film encourages promiscuous sex, shows the teacher and his long-standing girlfriend as bad role models, and propagates sex without commitment and responsibility.
Content:
(Pa, LLL, V, SSS, NNN, A, D, M) Pagan worldview focussing on sex & passion as the driving force in life; 10 obscenities & 21 profanities; one implied farming accident, woman slaps man, & girl sets fire to barn & horse; 1 graphic sexual act, 4 sexual situations, girl masturbating, & many references to sex in conversations; frequent & explicit full male & female nudity; alcoholism; cigar & cigarette smoking; and, gambling, arson, & teachers as bad role models for their students
More Detail:
CARRIED AWAY stars Amy Irving as Rosalee, the country school teacher whose relationship with her co-teacher Joseph (played by Dennis Hopper) is at a standstill. Things take a new turn with the arrival of the Wheeler family whose 17-year old daughter Catherine (Amy Locane) seduces Joseph and opens up a new world of sexual liberation for him. Their sexual affair provides Joseph with the passion he feels he needs at this juncture of his life with the closing of his school and the imminent death of his mother. Joseph extends his new-found sexual enthusiasm to his lover Rosalee, but he still cannot commit himself to marrying her. Before long, Joseph and Catherine's affair is exposed, and all must confront their own weaknesses.
CARRIED AWAY has little redeeming qualities. Joseph is a self-centered man whose only concern is finding the missing passion in his life. He has sex with Rosalee, but cannot commit to marriage. He has sex with Catherine, but tells her it will go nowhere. Sexual promiscuity is rife in this film, as are the nude scenes of Joseph, Rosalee and Catherine. There are plenty of sexual scenes and situations. There is extensive use of profanities along with vulgarities and obscenities. As its title implies, CARRIED AWAY relies on human passions to rule the day rather than godly teachings.