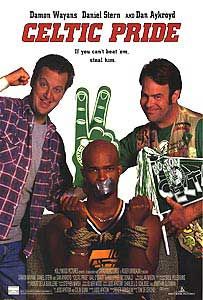 | | None | Light | Moderate | Heavy |
| --- | --- | --- | --- | --- |
| Language | | | | |
| Violence | | | | |
| Sex | | | | |
| Nudity | | | | |
What You Need To Know:
In CELTIC PRIDE, two highly loyal Boston Celtic fans kidnap their opponent's star player in the midst of the NBA championships. Despite its subject matter, this is a light-hearted film. Yet, it "fouls out" due to fast-pacing, lack of character development, some foul language, and a negative portrayal of a Christian.
Content:
(Pa, NA, Ab, LLL, V, A, M) Pagan worldview with magical thinking & negative references to a born-again Christian; 72 vulgarities, 20 obscenities & 2 profanities; several scenes of action violence, threats to blow up man with gasoline, fist fights, & gunshots; references to implied homosexuality, cross-dressing man & sexual references; alcohol use & abuse; and, theft, gambling & kidnapping
More Detail:
In CELTIC PRIDE, Michael O'Hara (Daniel Stern) and his best buddy, Jimmy Flaherty (Dan Aykroyd), watch the Celtics as their team enters the NBA championship facing their rival, the Utah Jazz. In the last season before the famed Boston Gardens will be torn down, the two enter the stadium and work the fans with a system of superstition. Although they jinx the Jazz's lead player Larry Scott, Scott leads the Jazz into victory and forces the finals into the seventh and final championship game. So, the two die-hard Celtics fans decide the only thing to do is to mess Scott up. They succeed in getting Scott drunk and kidnap him, but eventually the tables are turned. Mike and Jimmy wear Jazz uniforms and root loudly for the Jazz to save their necks.
This comedy is quick-paced, yet the quirky performances are often stifled by the fast-break plotting. This is a light tale. Obsessive and power hungry fans have been filmed in a darker light in the past, but CELTIC PRIDE is not after depth. It wants laughs. Yet, this is where this film fouls out because underneath the laughs, stands no moral base. In the end, these are not likeable guys. They have sold out to the opposition, betrayed their friends and lied to their families. Also, they are foul mouthed, and one of them, one time, cross-dresses.