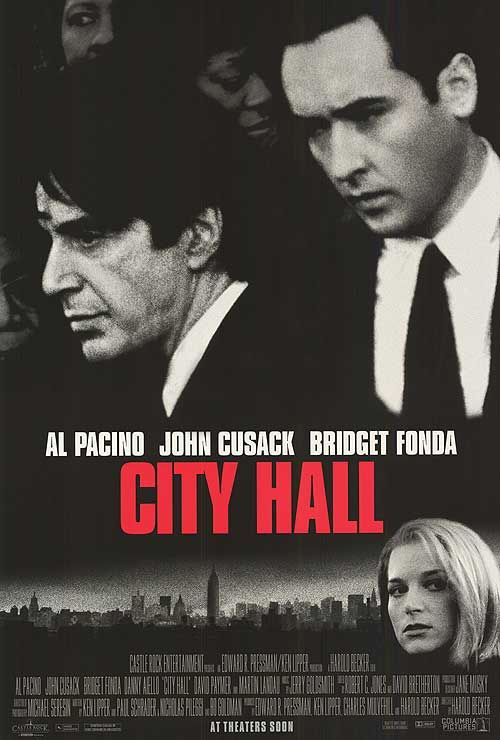 | | None | Light | Moderate | Heavy |
| --- | --- | --- | --- | --- |
| Language | | | | |
| Violence | | | | |
| Sex | | | | |
| Nudity | | | | |
What You Need To Know:
CITY HALL is a tense and intelligent political thriller that examines duty, conscience and political gain in modern New York City. Starring the always excellent Al Pacino and a surprisingly good turn by John Cusack, this detective drama is stimulating and smart. Caution should be noted in its brief depiction of murder and its hardball, hard language dialogue.
Content:
(B, C, LLL, V, A, D, M) Moral worldview demonstrating honesty & loyalty with some Christian elements; 27 obscenities & 3 profanities; brief violence including 2 gunfire murders & 1 implied suicide, & image of corpse; alcohol use; smoking; and, mob pressure, underhanded dealings, & lying
More Detail:
In CITY HALL, New York City Mayor John Pappas, played by Al Pacino, and his southern-fried Deputy Mayor Kevin Calhoun, played by John Cusack, have an apparently strong lock on the public's affection. Together, they handle all adversity with tact. One morning, a cop and a drug dealer shoot-out, and a stray bullet kills a six year old black child. That begins the unravelling of the Mayor's reign. The child was killed by a bullet from Tino Zapatti. Tino's father Paul is a Mafia cheiftain. Abe Goodman is the Mayor's able Chief of staff. He sees the court file for Tino Zapatti and notices that he was let off on probation for a crime that should have put him in jail for 10 to 20 years. Goodman smells a fix, which may implicate presiding judge Walter Stern. Kevin Calhoun and police benevolent attorney Marybeth Cogan do gumshoe work which uncovers the repercussions of the murders. The result is more murders and shocking evidence which includes the Mayor himself.
CITY HALL is excellent and professional in every way. The acting is superb. CITY HALL has a tight script with a thought-provoking, rather than climatic ending. It should be rightly noted as a movie only for adults. It is brainy and intelligent but contains a little violence and some hardball, hard language. It is a good testament to the power of goodness over corruption.
Now more than ever we're bombarded by darkness in media, movies, and TV. Movieguide® has fought back for almost 40 years, working within Hollywood to propel uplifting and positive content. We're proud to say we've collaborated with some of the top industry players to influence and redeem entertainment for Jesus. Still, the most influential person in Hollywood is you. The viewer.
What you listen to, watch, and read has power. Movieguide® wants to give you the resources to empower the good and the beautiful. But we can't do it alone. We need your support.
You can make a difference with as little as $7. It takes only a moment. If you can, consider supporting our ministry with a monthly gift. Thank you.