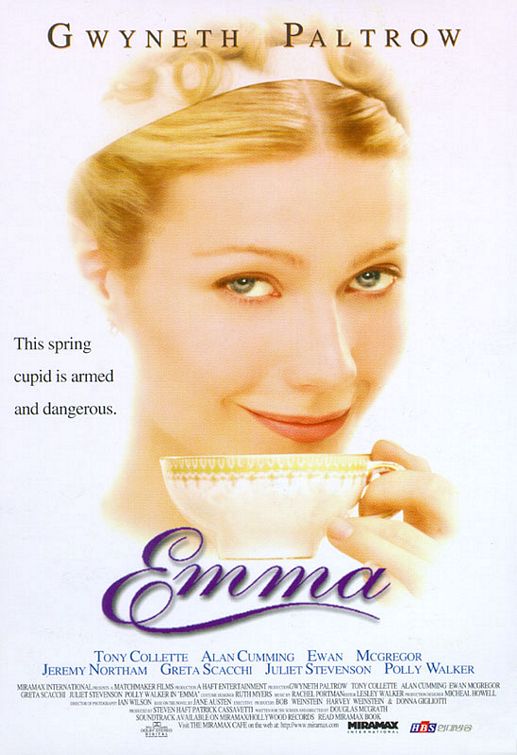 | | None | Light | Moderate | Heavy |
| --- | --- | --- | --- | --- |
| Language | | | | |
| Violence | | | | |
| Sex | | | | |
| Nudity | | | | |
What You Need To Know:
Starring Gwyneth Paltrow in the title role, it tells of a social young woman who seeks to marry off her contemporaries in early 19th Century England. Emma gets in one muddle after another until she eventually finds a man for herself. Positively demonstrating Christianity and the ministry, it represents a pleasant alternative to the normal summer blockbuster.
Content:
(CCC, V, A) Christian worldview extolling marriage, prayer & a favorable representation of the ministry; no foul language except the word "blast" used once; one very brief scene where woman gets abducted by gypsies; no sex; no nudity; and, alcohol use
More Detail:
Emma, played wonderfully by Gwyneth Paltrow, is a well-to-do young woman who has taken it upon herself to be a matchmaker to her contemporaries in early 19th Century England. She tries to set up the less-advantaged and slightly homely, Harriet Smith, with the Reverend Elton. However, the Reverend Elton confesses his love to Emma. When Emma doesn't return it, the Reverend Elton marries elsewhere. Meanwhile, Harriet turns down a marriage proposal from a kind farmer, while Emma's brother-in-law, Mr. Knightley, is looking down on Emma with ridicule. Emma next tries to pair Harriet with Frank Churchill, but fails. Harriet instead falls for Mr. Knightley, arousing Emma's jealousy for she has grown fond of Knightly. Yet, through frank discussions and reappearing suitors, all turns out very well.
In every way, EMMA stands apart from the normal summer fare. It is a quiet drama that isn't interested in bad weather, witness protection programs or spies. It is interested in love and marriage. The narrow view of gentility and courtship stimulate us with a sense of chaste fun, while also giving us a sense of monotony, simultaneously. Without the biting and brilliant wit of a script by Emma Thompson who wrote SENSE AND SENSIBILITY, nor the severity and focus of the director for PERSUASION, EMMA stands apart as slightly flawed, but nonetheless, entertaining and moral.