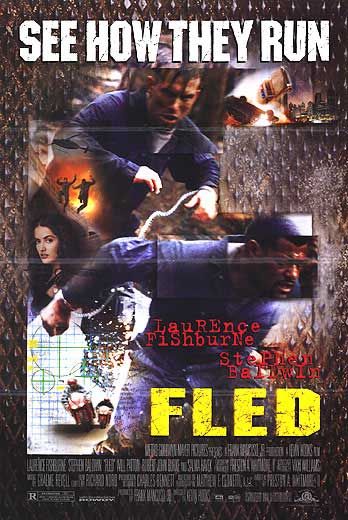 | | None | Light | Moderate | Heavy |
| --- | --- | --- | --- | --- |
| Language | | | | |
| Violence | | | | |
| Sex | | | | |
| Nudity | | | | |
What You Need To Know:
FLED pairs Laurence Fishburne with Stephen Baldwin in a B-grade, very violent action movie that borrows extensively from other movies resulting in a seen-this/done-that feel. Filmed in Atlanta, it tells the story of a criminal and a cop who are chained together as they look for a secret disk and escape the police and the Cuban Mafia. Also featuring strip clubs and a lot of foul language, this movie ranks as a poor and offensive action picture.
Content:
(Pa, LLL, VVV, SSS, NNN, A, D, M) Pagan worldview; 85 obscenities & 3 profanities; extensive violence including numerous shootings with bloodshed, beatings, chases, car crashes, explosions, torture by bondage & cutting, man falling to death, & man hit with shovel; sexual scenes in strip club & implied sex; upper female nudity in strip club, scantily clad women in strip club & upper male nudity; alcohol use; smoking; and, urination, lying, some racist talk & misogynist talk
More Detail:
FLED pairs Laurence Fishburne with Stephen Baldwin in a B-grade, very violent, action movie that borrows extensively from other movies. Fishburne plays Piper, an undercover cop who masquerades as a prisoner on work detail outside of Atlanta so he can get handcuffed to a prisoner named, Dodge. The two become fugitives and travel to Atlanta. We learn that Dodge is a computer hacker who stole 25 million dollars through the wires by using a disk he stole from the Cuban Mafia. We also learn that Piper has been assigned to protect Dodge and recover the disk, containing incriminating information which will help arrest the Mafia kingpin. From strip clubs, to massage parlors, to restaurants, and even to a cable ride up historic Stone Mountain, Piper and Dodge stay one step ahead of their pursuers until justice prevails.
Filmed in and around Atlanta, FLED offers a rare photo essay of the area. Nevertheless, this movie has no suspense, no thrills, no likable characters, and no originality. It does have bloody violence, strip clubs and a lot of obscenities. This movie would have done been better if the director had just filmed Stone Mountain's summer laser show for the theatrical audience, and certainly, NBC will air enough Atlanta scenery during the Olympic games to satiate the armchair traveler. The name FLED aptly describes how audiences will react to this movie.
Now more than ever we're bombarded by darkness in media, movies, and TV. Movieguide® has fought back for almost 40 years, working within Hollywood to propel uplifting and positive content. We're proud to say we've collaborated with some of the top industry players to influence and redeem entertainment for Jesus. Still, the most influential person in Hollywood is you. The viewer.
What you listen to, watch, and read has power. Movieguide® wants to give you the resources to empower the good and the beautiful. But we can't do it alone. We need your support.
You can make a difference with as little as $7. It takes only a moment. If you can, consider supporting our ministry with a monthly gift. Thank you.