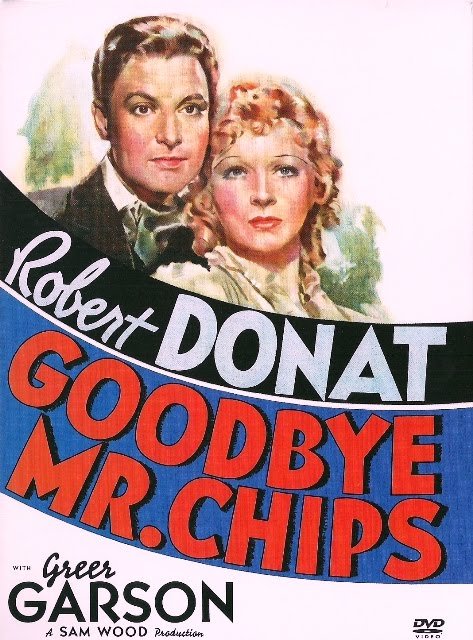 | | None | Light | Moderate | Heavy |
| --- | --- | --- | --- | --- |
| Language | | | | |
| Violence | | | | |
| Sex | | | | |
| Nudity | | | | |
Content:
More Detail:
In this tribute to the English public school system (equivalent to American private schools), Robert Donat is nothing less than smashing as the shy and retiring British schoolteacher who guides several generations of young boys to manhood in GOODBYE MR. CHIPS.
Boys are shown entering tradition-bound Brookfield School at the beginning of a new term in 1932, their names called off a roster and then a flashback to 1870 to show Donat as Mr. Chipping, "Chips" for short, arriving at the same school as a reticent and withdrawn novice instructor.
His class runs amuck and causes a commotion that brings the headmaster who chastises the new teacher. The experience deeply affects Chips. To insulate himself against similar embarrassments, he becomes a strict disciplinarian, so aloof and hard with the boys that he becomes the school's most unpopular teacher.
Promotions elude Chipping because of his unyielding attitudes and he is largely forgotten in the backwaters of the school. After languishing miserably for two decades, he takes his first vacation at forty and travels to Austria on a hiking tour. Here he meets and falls in love with Katherine Ellis, a tender woman who thinks his job exciting to watch boys grow up and see their character develop.
They marry, and she brings forth his natural compassion and consideration for his students by building up the shy, modest Chips. Soon his humanity brings him to high esteem among pupils and faculty alike. Katherine then tragically dies in childbirth, along with their baby, but the courage and kindness she has exemplified remains with Chips long into the next century where he's revered as the school's most memorable institution.
Even in his eighties, when retired, he lives close to the school, tutoring and nurturing his boys in warm and friendly ways. On his deathbed, he hears a doctor and a teacher conferring, saying that it is a shame he never had any children of his own. Murmurs Chips: "You're wrong. I have… thousands of them, thousands of them, and all my boys."
So moving was Donat's performance that he beat out the most popular American candidate for the Best Actor Oscar, Clark Gable for his role of Rhett Butler in GONE WITH THE WIND. Greer Garson also shines brightly. Her Katherine is one of the nicest people one would hope to meet anywhere, embodying the very essence of decency and good living. When she dies, one hates to have the picture continue without her.
GOODBYE MR. CHIPS is a quiet little movie that sneaks up on you in a charming way while keeping its sentimentality within bounds. It is a serene, heartwarming and generally satisfying film edition of an edifyingly sentimental novelette. It is also nostalgic: if we never knew a Mr. Chips, we should have known him. He belongs to every young man's past.
Under the tender cultivation of a woman's hand, Mr. Chips becomes such a human, quizzical and understanding person that all Brookfield eventually regards him as an institution. He cracks academic jokes, takes a philosophical view of wars and reminds undergraduates that he canned their grandfathers.
Yet, his upholding of authority is balanced with compassion. It also does the heart good to see old-fashioned values, manners and customs demonstrated, as well as prayer in class for the strength and inner fortitude it brings. Each page of the script seems to have stenciled on it "handle with care," such as the development of ladies bicycles or even inside jokes about H.G. Wells ("Too fantastical. He'll never amount to anything").
To Mr. Chips, grace and dignity are what really matter, and it is an incredibly fine characterization. It is only in his crotchety years, when he is scampering across the campus in his tattered robe, that Chips seems a trifle overdrawn, a fraction on the cute and overacted side. However, that is just an impression not deep enough to discredit an otherwise flawless performance. The words that come to mind, in fact, when Chips passes on are: "Well done, thy good and faithful servant."
Now more than ever we're bombarded by darkness in media, movies, and TV. Movieguide® has fought back for almost 40 years, working within Hollywood to propel uplifting and positive content. We're proud to say we've collaborated with some of the top industry players to influence and redeem entertainment for Jesus. Still, the most influential person in Hollywood is you. The viewer.
What you listen to, watch, and read has power. Movieguide® wants to give you the resources to empower the good and the beautiful. But we can't do it alone. We need your support.
You can make a difference with as little as $7. It takes only a moment. If you can, consider supporting our ministry with a monthly gift. Thank you.
Movieguide® is a 501c3 and all donations are tax deductible.
Enjoy articles like this? Sign up for our mailing list to receive the latest news, interviews, and movie reviews for families: