"Believing in What?"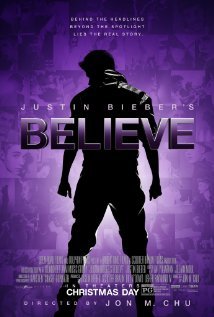 | | None | Light | Moderate | Heavy |
| --- | --- | --- | --- | --- |
| Language | | | | |
| Violence | | | | |
| Sex | | | | |
| Nudity | | | | |
What You Need To Know:
JUSTIN BIEBER'S BELIEVE is the 19-year-old pop star's second concert movie. It explores how he writes songs and the creative process behind his world tour, "Believe." It is a coming-of-age story as the young star transitions from his teeny bopper days into a more grownup artist. The audience gets a look into the process of how he writes songs and some behind the scenes footage of what goes on to produce a concert. The concert movie's theme is believe in yourself and rise above people who want you to fail. However, it's not acknowledged who exactly wants Justin Bieber to fail.
BELIEVE is an entertaining movie that shows Justin Bieber's continued growth as a person and an artist. However, the movie lacks details about the things Justin Bieber is struggling with and seems a little self-indulgent. Overall, the production values are good, despite a surprising amount of home video. Happily, there are some positive Christian references. However, there's even more references to "believing in yourself," brief foul language, and lots of romantic love songs. So, JUSTIN BIEBER'S BELIEVE warrants caution for older children.
Content:
(PaPa, C, FR, Ro, LL, V, S, N, M) Mixed pagan worldview with several overt Christian references to Christian prayer and Justin Bieber attending Sunday School as a child and "belief in a higher power" is mentioned, but no mention of Jesus or God, combined with some false religious attitudes such as it's said that any religion is fine and a New Age element of believing in yourself as the answer to hard times and people wanting you to fail, plus there's imagery of Justin as an angel, raised up by the belief of his fans, and there are many romantic songs about emotional love between couples and lots of camera shots of screaming fans (mostly teenage girls); about 13 or 14 obscenities and profanities, including about 11 light "Oh my God" type profanities, plus a confrontation with some British photographers has some bleeped "f" words; some light comic violence such as horseplay and pranks; brief sexual connotation at one point when Justin has his shirt off and some suggestive dancing, plus Justin gives and receives kisses on the cheek from a young fan who's terminally ill; upper male nudity, girls in bikinis, dancers in tight and skimpy dance attire, and singer Nicki Minaj appears in a skimpy costume; no alcohol; no smoking or drugs; and, a male fan refers to Justin as his 'idol' and has tattooed Justin's face on his leg, a young fan who's sick calls herself Mrs. Bieber and goes through a mock wedding, nothing about the two or three lewd escapades involving Justin Bieber that have been in the news recently but Justin's mother talks about his chiseled jaw and how much he's grown up.
More Detail:
JUSTIN BIEBER'S BELIEVE is a concert movie of the teenage pop star that also gives viewers a bit of the inside story to Justin Bieber's musical life since his first movie, NEVER SAY NEVER (2011). BELIEVE is a likeable coming of age story as Justin Bieber navigates a more adult world where he realizes that people want him to fail. However, it lacks details and includes some false religious notions along with some positive Christian references.
In the time since NEVER SAY NEVER, Justin has grown up and takes more control over the direction of his career, as evidenced by his involvement in the creative process of his tour. The movie involves behind-the-scenes info throughout the tour, though it feels less intimate then his first concert movie. The theme is that, to overcome things, you need to work hard and believe in yourself. Justin states that he knows people want him to fail, yet the story never takes us to the place where the audience sees how this impacts his life. There is one instance of aggressive paparazzi calling him names, and he confronts them about why they are doing that, but other than that there is no other concrete example of how people want him to fail. As such, it feels a little self-indulgent and a tiny bit boring.
There is some time spent on Justin's charitable contributions and giving back to his fans. Justin states several times about the importance of staying humble. His mother, Patti Mallette, discusses watching his character grow. Patti says he feels tremendous pressure and is constantly being judged. Justin says people want to be loved around the world. He expresses that he represents hope and connectedness that people need and that his fans are his moral compass.
The documentary follows Justin as he prepares for and goes on his BELIEVE tour. It shows quite a bit of footage on the creative process and it is interesting to watch how a song comes into being. The movie shows a group of dedicated professionals around him who genuinely seem to have his best interests at heart.
However, despite some positive Christian references, the movie contains some false religious notions. For example, believing in yourself is mentioned as an answer to hard times, including those times when people want you to fail. It's also mentioned that Justin draws his strength from his fans' belief in him. In addition, there are a lot of references in songs to romantic love rather than Godly love, as well as some light profanities by fans and some bleeped obscenities in a confrontation with celebrity photographers. So, MOVIEGUIDE® advises caution for older children for JUSTIN BIEBER'S BELIEVE.