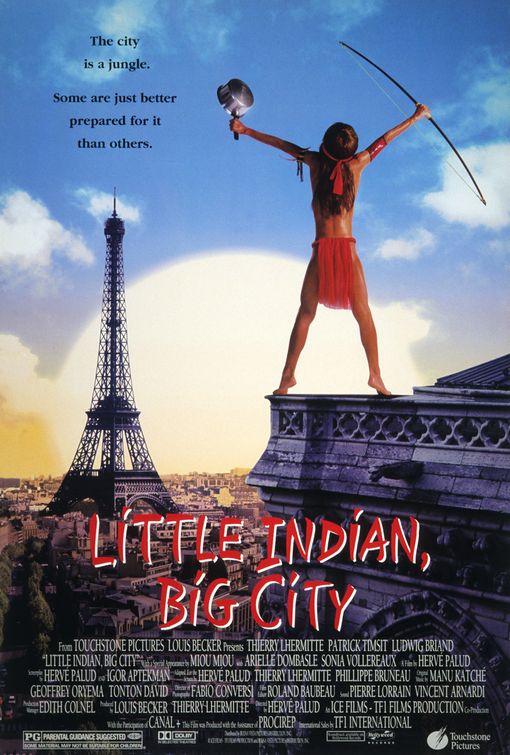 | | None | Light | Moderate | Heavy |
| --- | --- | --- | --- | --- |
| Language | | | | |
| Violence | | | | |
| Sex | | | | |
| Nudity | | | | |
What You Need To Know:
LITTLE INDIAN, BIG CITY is one French import we didn't need. Billed as a children's movie, it tells of a French businessman who takes his jungle-raised son back to Paris for an education in culture. A fish out of water tale, it is stupid, frustrating, angry in most parts, and has an extensive New Age element.
Content:
(Pa, NaNa, LL, VV, S, NN, A, D, M) Pagan worldview with New Age Elements; 13 obscenities, 9 vulgarities & 3 profanities; moderate violence including shooting people with dart gun, slapping children, threats with knives, kicking man in the crotch, killing animals with bow & arrow, hitting & beating for comic effect, & rocket explosion; some sexual suggestiveness & unfounded fears of children having sex; extensive amounts of naturalistic nudity but no sexual organs shown; alcohol use; smoking; and, stealing
More Detail:
LITTLE INDIAN, BIG CITY is one French import we didn't need. Billed as a children's movie, no one but the most simple will enjoy it. Stephen is a married business man in Paris with a girlfriend on the side. His wife, Patricia, lives in the Amazon jungle in South America. Stephen takes a trip to the Amazon to finalize his divorce and meets his son, Mimi-Siku, for the first time. Taken aback at his son's primitive behavior, Stephen insists on taking Mimi-Siku back to Paris for an education. In Paris, Mimi-Siku kills pigeons with his bow and arrow and climbs the Eiffel Tower. These activities keep Stephen hopping and interfere with his love life and business. Slowly, Stephen begins to change his priorities, learns to love his son and decides to change his lifestyle.
Although LITTLE INDIAN, BIG CITY contains an interesting premise, the audio is poorly dubbed into English, and the dialogue and acting are moronic. Furthermore, Stephen's girlfriend Charlotte is deeply involved in New Age. Although she is portrayed as somewhat goofy, we learn all about harmonic convergences and gurus. The movie shows people either consumed with success or consumed with New Age spirituality. So, with moronic writing, bad dubbing and poor morality, LITTLE INDIAN, BIG CITY is a big disappointment.