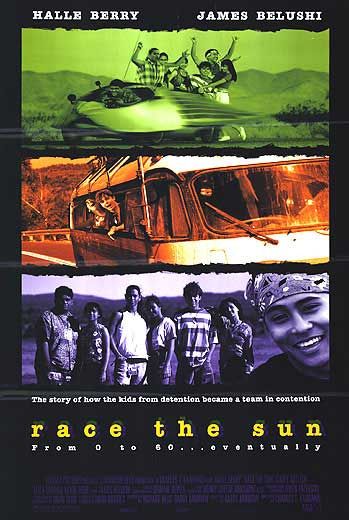 | | None | Light | Moderate | Heavy |
| --- | --- | --- | --- | --- |
| Language | | | | |
| Violence | | | | |
| Sex | | | | |
| Nudity | | | | |
What You Need To Know:
Mixing HERBIE THE LOVE BUG and COOL RUNNINGS, Trimark's RACE THE SUN is about a solar car competition with a group of misfits. This sickeningly sweet tale is another predictable underdog-achieving movie. Morally, it features grit, determination, good role models, and teamwork, but it also has the children using obscenities and one who indulges in alcohol.
Content:
(B, LL, V, A, M) Moral worldview stressing teamwork, determination & acceptance; 20 obscenities, 5 vulgarities & 5 profanities; mild violence including wind storm, cars tip over, shoving, car on fire, fighting, & threats; no nudity but women in bikini tops; alcohol use; and, rigged games
More Detail:
Trimark's RACE THE SUN is about a solar car competition with a group of youthful misfits. It is another predictable underdog achieving movie. In this case, the underdogs are a group of young Hawaiians called the Lo-lo's whom everyone expects to fail. One day a new teacher named Ms. Beecher arrives and encourages them to make something of themselves. One student convinces the group to make a solar car for an up-and-coming race. The team makes an ugly, but competitive car called the Cockroach, and it wins. This win makes them eligible to enter a world class race in Australia. Through grit, determination and common genius, they battle windstorms, intense heat and saboteurs toward an unlikely finish.
This type of movie can be extremely tired. The emotions and the behaviors of the players, plus the swelling music, tell the viewer exactly what to feel at every second. Halle Berry, doing better work in the current EXECUTIVE DECISION, and Jim Belushi seem to be between jobs with a turn at this pedestrian feature. The Hawaiian Lo-lo's flower their speech with many obscenities, and there is a scene where one of the girls goes off drinking booze. Some may praise this movie for its good adult role models and wayward children doing good, but as an entertaining movie, it fails.