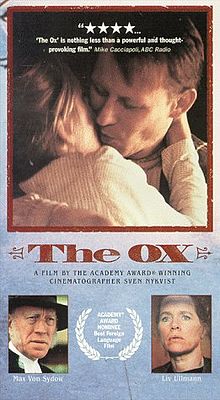 | | None | Light | Moderate | Heavy |
| --- | --- | --- | --- | --- |
| Language | | | | |
| Violence | | | | |
| Sex | | | | |
| Nudity | | | | |
What You Need To Know:
THE OX is the true story of a poverty-stricken man who kills an ox belonging to his boss in order to feed his starving wife and child, and eventually confesses, repents and is forgiven. This is a beautiful Christian parable that entertains as it teaches. THE OX is a must see for all ages 10 and up.
Content:
(B, C, L, M, SS, V) This realistic portrayal of Christians in a small Swedish parish in the late 1800s communicates a message of repentance and compassion. The film is framed within a moral context, in contrast to a brief scene of violence (a stolen ox is bludgeoned to death) and off camera adultery. This story of forgiveness triumphing over sin has 2 slight obscenities and 7 minor profanities.
More Detail:
THE OX is set in a Swedish village in the 1860s, where Helge kills his boss's ox to feed his starving wife and baby. Helge's wife Elfrida urges him to confess, but he refuses. However, next summer, Helge confesses to the Pastor, and, after pleading guilty in court, is sentenced to life imprisonment. In prison, Helge repents, and his faith in God and love for his wife grows. Elfrida, left with the baby and no income, succumbs to the advances of a worker in exchange for food. Soon after, she discovers she is pregnant. Six years pass, and Helge's boss finally allows for Helge's release. Helge comes home to find that his wife has borne a son. Helge storms out to find the Pastor, who reminds Helge how everyone has forgiven him. Doesn't his wife deserve the same? Touched by the truth, Helge returns to and embraces his wife.
THE OX is an edifying, well made, morally responsible film. It shows a clear demarcation between right and wrong, and retribution is presented as necessary to punish sin, just as forgiveness should follow repentance. Thus, the director creates a world in which peoples' love for Christ gives them compassion for others, and so beautiful Christian parable entertains while it teaches.