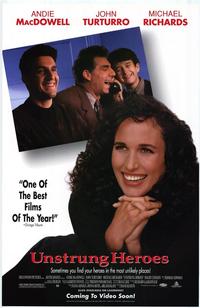 | | None | Light | Moderate | Heavy |
| --- | --- | --- | --- | --- |
| Language | | | | |
| Violence | | | | |
| Sex | | | | |
| Nudity | | | | |
What You Need To Know:
In UNSTRUNG HEROES, when 12-year-old Steven finds out that his mother is dying of cancer, he runs off to live with his two uncles, and they form a close relationship. Through this difficult time in his life, he learns to appreciate those closest to him more than ever. Though endearing and well-produced, it downplays the role of God while commending the need to believe in something.
Content:
(B, Ab, L, M) Moral worldview with somewhat a flippant attitude toward God & yet some positive references to choosing faith; 6 obscenities & 2 profanities; men hide from landlord & play pranks; and, smoking
More Detail:
In UNSTRUNG HEROES, Steven Lidz is turning twelve and has no idea of the changes that are coming to his life. When his mother gets sick with cancer, he does not want to be around home anymore and runs away to live with his two eccentric uncles. Steven forms a close relationship with them. For Steven, this time of tribulation is a time of growing up and gaining a better knowledge of the people closest to him. These people all come together to form Steven's UNSTRUNG HEROES.
UNSTRUNG HEROES is Diane Keaton's second venture as a director (her first was an intriguing feature documentary called HEAVEN), but the movie feels as if she is a seasoned veteran. The production quality is first rate. The acting is excellent. Regrettably, the film suffers from theological relativism. When the uncles convince Steven to have his Bar Mitzvah, his father is totally against it because he doesn't believe in God. Yet, Steven's mother lets him do it, since she thinks it is good for him to believe in something and thinks it is best for a person to make up his own mind about what he believes. While there is merit in her position, it is regrettable that the characters make it seem like God is just a nice idea rather than the sovereign Lord of all. So, even though they learn to appreciate the value of each other, they don't learn to appreciate the value of their Maker.