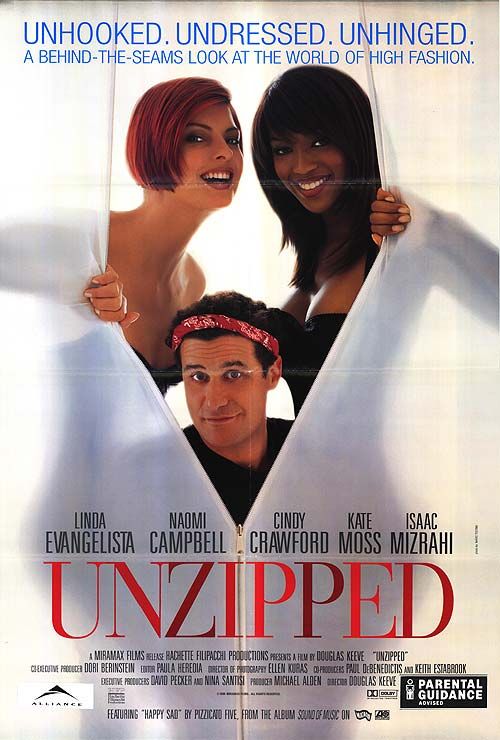 | | None | Light | Moderate | Heavy |
| --- | --- | --- | --- | --- |
| Language | | | | |
| Violence | | | | |
| Sex | | | | |
| Nudity | | | | |
What You Need To Know:
UNZIPPED is a documentary film about fashion designer Isaac Mizrahi. The story takes him from the Spring 1994 show through the Fall 1994 show where he depicts his new Eskimo inspired line. Often hilarious and insightful, this film depicts the fruit of humanistic endeavors in a vainglorious industry.
Content:
(H, O, LL, N, Ho, D, M) Humanist worldview extoling man's creations; tarot card use & Ouji board reference; 8 obscenities, 7 obscenities & 1 vulgarity; naturalistic nudity of models in various stages of undress, but no full nudity; homosexual characters; and, smoking.
More Detail:
UNZIPPED begins with the words, "Isaac Mizrahi is a fashion designer. He has just shown his Spring '94 Collection. This is the story of how his Fall '94 Collection gets made." Thus, the viewer is carried along on a journey through the vainglorious fashion industry filled with creativity, frenzy and fun. Mizrahi decides to build an Eskimo fur theme for his new collection. He then previews his designs for a dour-faced fashion arbiter, Polly Allen Mellen, travels to Paris and forges the plan for his new collection. Throughout it all, he chums it up with an eccentric Ertha Kitt, the acerbic lesbian Sandra Bernhardt, veteran models Cindy Crawford and Naomi Campbell, and budding models who display fear and insecurity. After the show concludes, fantastic applause erupts, and Mizrahi now only needs to check the papers for the reviews.
This film can inspire creative people, and it shows the fruits of hard work and determination. Yet, Mizrahi seems to suggest that he will use any spiritual force to help him, even if it is demonic. Though treated lightly, Mizrahi shows he is no stranger to using psychics, tarot cards and Ouji boards. Furthermore, Mizrahi states that all his work, except for the actual designs, is nothing less than pain and frustration. Therefore, the underlying mood in this breezy comedy is that humanistic endeavors, no matter how beautiful, never truly satisfy.