Published: January 21, 2022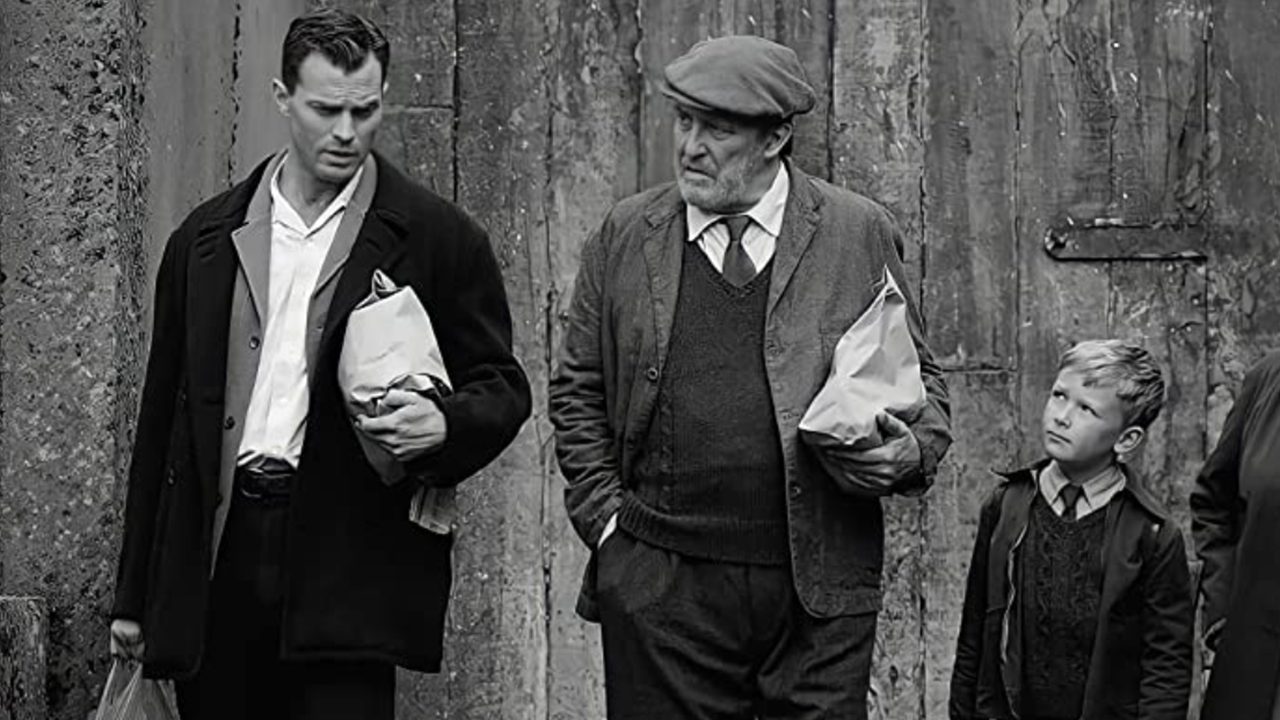 BELFAST Cast Share Their Experience Growing Up in Northern Ireland During Civil War
By Movieguide® Staff
For many of the BELFAST cast and crew, their portrayal of characters living through the civil war in Northern Ireland during the 1980s and 1990s was a real part of their childhood. 
Actor Jamie Dornan, 39, who plays Pa, and Caitriona Balfe, 42, who plays Ma, reflected on their time living in Ireland amid civil unrest.  
"'If you're born there, and you're raised there, you're very cognizant of the fact that you are from a very complicated place," Dornan told British Vogue. "'From the day I was born, until the day I left, people pretty much were fighting a civil war.
"I always think back to stuff that became normal, that was not normal. Like trying to meet your mates on Saturday afternoons in town and there'd been a bomb scare," he added. 
In reality, the conflict lasted around 30 years, up until the Good Friday Agreement of 1998.  
One issue highlighted by Balfe was that unionists wanted to remain a part of the UK. In contrast, nationalists wanted Northern Ireland to disband from the UK. 
"It was a very IRA-leaning area. But my dad was a police sergeant – that's why we were there – so we were brought up very apolitical," Balfe recalled. "I remember we used to go weekly shopping in the north, and you would go through checkpoints at least once a week.
"We didn't even really think about it until our cousins came up from the south and they would be terrified going through, because you'd have British soldiers with machine guns pointed at the car asking for your papers," she added. 
For Balfe, Dornan, and especially BELFAST director Kenneth Branagh, the movie was an opportunity to teach younger generations of the war and what came about afterward. 
"There's a young generation who are coming up, who didn't live through the Troubles, and there is again that kind of romanticism to having a cause and fighting for a cause," Balfe noted. "Maybe it's too much to ask for a film to change people's minds, but I think it's important that people see it."
Dornan added: "Anything that can prove that there are no winners at the end of all that is good for the next generation to see."
A portion of Movieguide®'s review of BELFAST reads: 
BELFAST is a beautifully crafted drama about the lives of a young boy, Buddy, and his Protestant family in the Northern Ireland town during the Fall and Christmas of 1969. It's a time of social upheaval when tensions between Protestants and Catholics break out into violence. Buddy's father and mother argue about moving the family to England, where the father has a possible permanent job and house arranged for them. Meanwhile, Buddy explores the mysteries and joys of life through his relationships with his parents, grandparents, his cousin, a pretty girl in his class, and the culture around him.

BELFAST is brilliant, life-affirming, dramatic, funny, and sometimes heartbreaking. Beautifully written and directed by Kenneth Branagh, the movie has a strong Christian, morally uplifting worldview. It extols family, doing the right thing, faith, compassion, Godly love, gratitude, peace, courage, and joy. However, the movie contains strong foul language, violence and a universalist comment that undermines the New Testament biblical warning against being unequally yoked. So, MOVIEGUIDE® advises caution for older children and young teenagers. That said, BELFAST is wonderful movie for mature viewers.
Read More: BELFAST Extols Family, Faith, Compassion in Big-Screen Experience