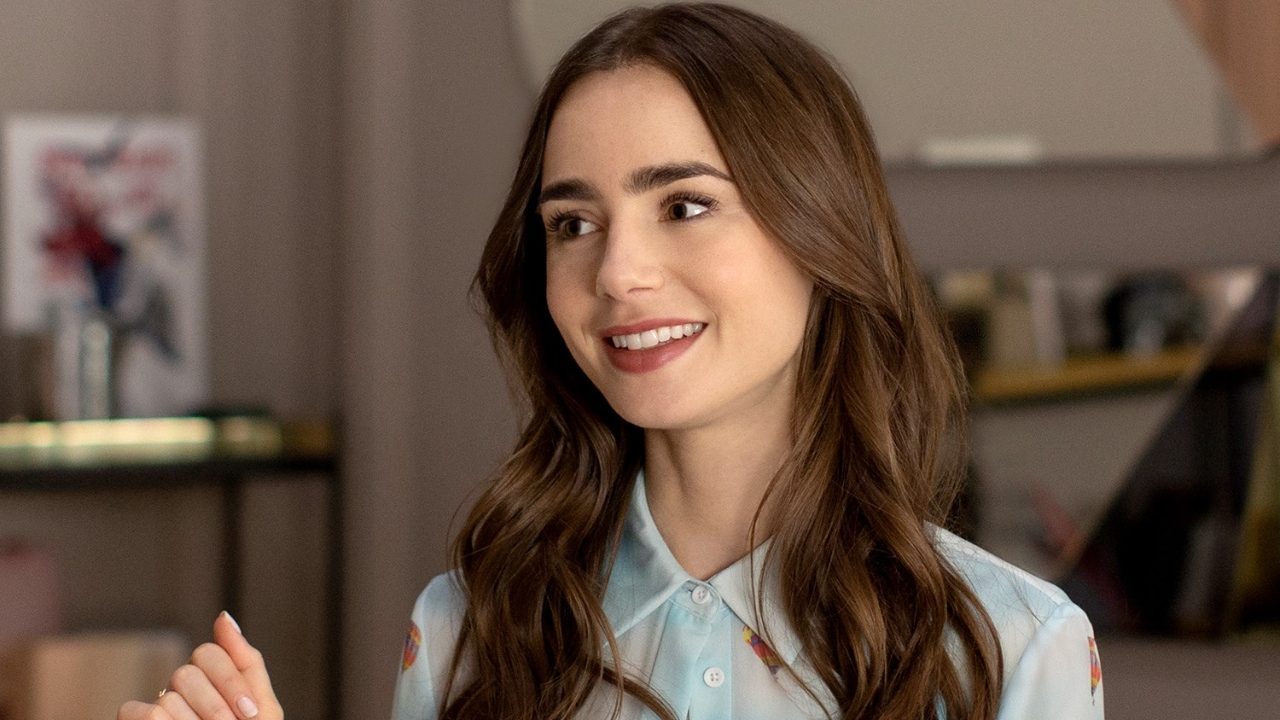 Should Your Teenage Daughter Watch EMILY IN PARIS?
By Movieguide® Contributor
EMILY IN PARIS debuted season 2 on Netflix earlier this year. The series follows Lily Collins as Emily, a young marketing executive from Chicago as she unexpectedly ends up moving to France for work. The best plot twist- Emily speaks zero French. 
The comedy-drama television series was created and written by Darren Star. Produced by MTV Entertainment Studios, the series moved over to Netflix after originally being created for Paramount Network. Lily Collins stars as the American who finds her way in Paris, alongside other actors including Philippine Leroy-Beaulieu, Ashley Park, Lucas Bravo, Samuel Arnold, Bruno Gouery, Camille Razat, and William Abadie.
One season in and it seems our Emily has not made too much progress. Still struggling to learn French, still struggling to fit in or make her coworkers like her, still struggling with her love life – Emily is going to need more help than she thinks.
Each time Emily takes a step or two forward, she seems to take just as many back. She will progress with a fashion client — shocking the whole team — just to accidentally mess something up and almost lose another. The same thing goes for her love life.
Just about every tension or struggle in Emily's life either involves work or a relationship. Yet amidst all the fire and drama, Emily keeps a positive attitude and stays focused and determined in the workplace, which is admirable. Emily struggles with average life battles, only on a different playing field due to living in a country where she does not know the language. 
Will Emily succeed? Will her love life get in the way? Or will the French get tired of her American enthusiasm before her time there is up?
The series contains a predominant romantic worldview where characters are mostly drive by their emotions, and have no belief in God or interest in biblical principles. The show features drag queen clubs, adulterous sex, lying and stealing. There is also a brief mention of an afterlife, and supposed darkness and oblivion after death. 
At the same time, moral elements are present in friendship, forgiveness, love, compassion, and more. Characters apologize for hurtful words and actions, misconduct is owned up to and forgiveness asked for, as well as friendships brought closer by truth being revealed and second chances being given.
The show contains excessive foul language, as the French love to swear. A handful of French comments are not translated due to their offensive nature. There's also light violence, including a glass thrown to the floor in anger, and a man accidentally cuts off his finger with a knife while trying to film a video. 
Sex and sex talk are brought up often and almost seems to be a theme. The act of sex itself is not depicted, though it's heavily implied in multiple scenes. Furthermore, adulterous sex is perceived as normal, which we know is antibiblical.  There is no full frontal nudity, but there is upper and rear male nudity. Women are seen in lingerie and bikinis. Couples are depicted in bed, but covered by sheets and blankets.
EMILY IN PARIS also contains copious amounts of alcohol consumption, as characters drink at every meal. One character even turns to alcohol to drink away their guilt. Smoking cigarettes is also considered "normal," and one character talks about taking "molly," and others discuss using marijuana.
These characters also use immoral cutthroat actions to get ahead in the industry, including lying, withholding information, stealing, or something of that nature at least once throughout an episode, cheating is portrayed as acceptable, cutthroat fashion industry makes backstabbing and being fake seem like okay things to do.
While the series contains rampant immorality, the production value of this series was outstanding. Each and every aspect was aesthetically pleasing to the eye. The actual filming did take place in France; and with the camera work and lighting tied in, the scenes are just absolutely gorgeous.  From the beautiful landscapes of Paris, to the colorfully fun costumes of each character- the production was creatively designed down to the small details. The writing is definitely a bit cheesy here and there, but that is what one might expect from a rom-com type series. Overall, the production quality is impressive and keeps the audience entertained.
Ultimately, EMILY IN PARIS has a strong Romantic worldview that does not necessarily line up with the Bible. Throughout each episode, there are prominent impure themes which depict and even normalize adulterous sex, inappropriate drunkenness, cheating, lying, stealing, and more. There are also redemptive qualities as there is a great deal of love, friendship, honesty, forgiveness, and more that are depicted throughout each episode. Due to the moderately questionable elements, discretion is advised for older teenagers and adults.