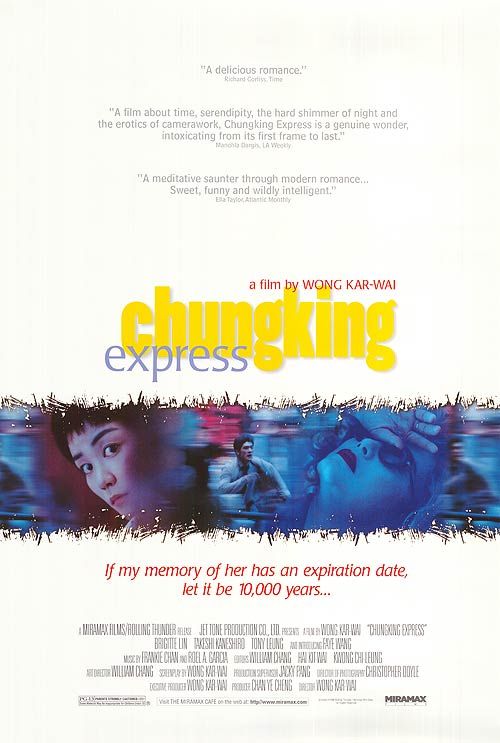 | | None | Light | Moderate | Heavy |
| --- | --- | --- | --- | --- |
| Language | | | | |
| Violence | | | | |
| Sex | | | | |
| Nudity | | | | |
What You Need To Know:
More Detail:
EXPRESS
Quality: * * * Acceptability: -2
– Subtitles –
RATING: PG-13
RELEASE: February 8, 1996
TIME: 103 Minutes
STARRING: Brigette Lin, Takeshi Kaneshiro, Tony Leung, & Faye Wang
DIRECTOR: Wong Kar-Wai
EXECUTIVE PRODUCER: Wong Kar-Wai
PRODUCER: Chan Ye Cheng
WRITER: Wong Kar-Wai
DISTRIBUTOR: Miramax Films/Rolling Thunder Release
GENRE: Romantic Comedy
INTENDED AUDIENCE: Young adults & adults
CONTENT: (Ro, V, S, NN, A, D, M) Romantic worldview emphasizing romantic love; brief action violence involving 3 shootings; implied sex through scenes involving erotic kissing, man & woman in bed & a mention of implied sexual tryst; bare top of a woman & man & woman in underwear; drinking and drunkenness, drug smuggling & cigarette smoking; and, thievery, kidnapping of a child & man vomiting
SUMMARY: In CHUNKING EXPRESS, two separate stories tell of two Hong Kong policemen trying to find love after they lose their girlfriends. One finds solace in a blonde-wigged drug dealer, and the other in a take-out fast food worker who dreams of California. The film is very stylish, energetic and reflects impish fun, but the stories are driven by romantic love and have elements of violence and promiscuity.
IN-BRIEF:
In CHUNGKING EXPRESS, director Wong Kar-Wai tells two separate stories about two Hong Kong policemen looking for love after their relationships bomb out. The first is cop #223 who flounders in all his attempts. To commemorate his loss, he buys canned pineapples with an expiration date which holds great significance for his break-up. He finds a touch of romance again in the strangest person: a blonde-wigged, drug dealer whose smuggling deal has gone awry. In the second story, cop #663 has been abandoned by his stewardess girlfriend, and he mopes around his apartment talking to household objects. Mismatched love once again plays its tune as in the first story, and romance, when found again, is as slippery as an eel.
Set against the pulsating throb of Hong Kong street life, CHUNGKING EXPRESS expresses such a unique style of its own that its energy and enthusiasm become highly infectious. While the film draws one irresistibly into its wit and style, the film's inspiration is that only of romantic love without any moral compass. Fate holds the ruling hand, and elements of violence (although these were seen as pixilated images), drug smuggling and implications of sexual immorality make CHUNGKING EXPRESS, despite its artistic ingenuity, a less desirable film in terms of story content.