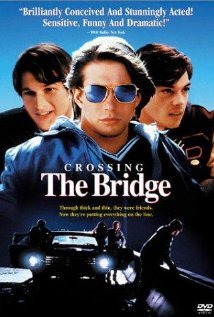 | | None | Light | Moderate | Heavy |
| --- | --- | --- | --- | --- |
| Language | | | | |
| Violence | | | | |
| Sex | | | | |
| Nudity | | | | |
What You Need To Know:
CROSSING THE BRIDGE is the story of three young men who plan to smuggle a shipment of heroin into the U.S. from Canada. Although their ultimate rejection of the plan is edifying and uplifting, CROSSING THE BRIDGE is confusing, contrived and tainted with obscene language.
Content:
(B, LL, S, VV, A/D) An uplifting, moral ending is marred by: approximately 36 obscenities, 1 profanity; implied premarital sex; two fistfights, alcohol and marijuana use.
More Detail:
In CROSSING THE BRIDGE, the film's three principals, all Detroit natives, find themselves undergoing a very critical juncture in their lives. Mort Golden, the main character and narrator, tells us that this is a tale of the "war-wagon" ( an unregistered car owned in common by Mort and his two friends) and that this is " the story of the Bridge." Much of the first 20 minutes is taken up with the young men bonding; yet, their friendship seems shallow and unconvincing, centering on small talk about having sex. Their decision to smuggle drugs appears to be more of a non-decision than a clear-cut goal. The young men, really still boys, are not criminals, but lack direction. When they decide to risk smuggling drugs, they do it because they see it as their only real chance to get ahead. When they arrive at the Ambassador Bridge, that spans the border between the Canada and United States, loaded down with heroin, Tim Reese balks at going through customs. Mort and Danny are left alone in the "war-wagon" to decide whether to proceed or not. Their decision not to cross the border with the drugs is both edifying and unexpected, but leaves the viewer wondering how it happened.
How do three young men suddenly decide within a period of five minutes to give up a plan that seemed so easy and natural to make in the first place? Only the filmmaker can answer that question, and he appears to have left it to the audience's imagination.