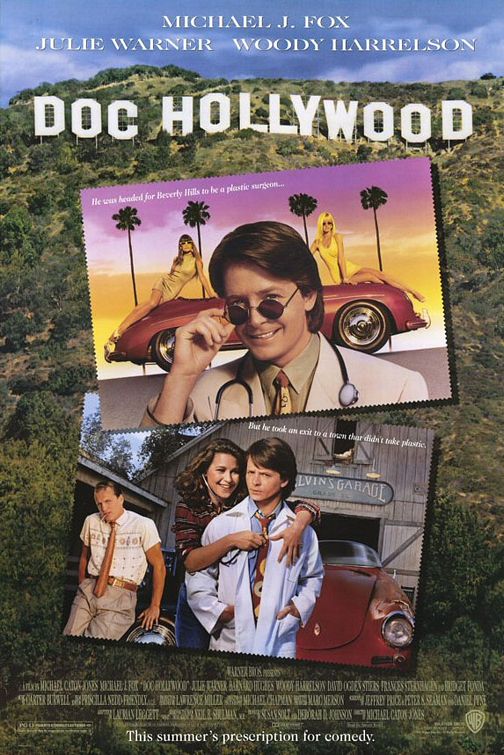 | | None | Light | Moderate | Heavy |
| --- | --- | --- | --- | --- |
| Language | | | | |
| Violence | | | | |
| Sex | | | | |
| Nudity | | | | |
What You Need To Know:
DOC HOLLYWOOD is a Green Acre-ish story about a young medical doctor headed for Beverly Hills when his car smashes into a fence on the outskirts of a small southern town. This otherwise wholesome portrayal of community living is soiled by profanity, obscenity, scatological humor, and one completely nude scene
Content:
(L, N, M) 19 obscenities & 6 profanities; scatological humor; and, nudity.
More Detail:
Heading for Beverly Hills to practice plastic surgery, Ben Stone (played by Michael J. Fox) is an ambitious, young medical doctor who has just finished his internship at a rough New York City hospital. When he misses the freeway and tries to avoid a collision, his beautiful, classic, 1955 Porsche Speedster smashes into the local judge's fence on the outskirts of Grady, a small Southern town.
Ben is sentenced by Judge Evans to 48 hours of community service at Grady Memorial Hospital. With no cash to pay for his car repair, Ben reluctantly accepts work in this three-room "hospital," run by the crotchety Dr. Hogue. Little does Ben know that the town leaders want to keep him in Grady, fearing that he might be the only doctor who comes along for a long time and that Dr. Hogue might die any minute.
Life in Grady is not so bad, however, especially after Ben sees Vilulu, who later turns out to be his ambulance driver, skinny-dipping in the river. Her figure becomes indelibly imprinted in his memory when she walks right up to him stark naked, takes her towel and walks off while engaging in some coy banter.
Winning the affections of the townspeople, Ben performs various minor "emergencies," from removing a fishhook caught in a man's finger to reading handwritten letters for an illiterate family.
Not-so-impressed is Ben's elderly co-practitioner, who graduated from medical school 40 years ago and makes little attempt to upgrade his practice. Dr.Hogue's skepticism dissolves, however, when Ben rescues him from a heart attack.
Also warming up to Ben is Lou. At first, she thinks he is "only after one thing," a suspicion confirmed when she overhears Ben betting Mayor Nichols that he can get her into the sack in two days. Hesitantly, Lou accepts Ben's invitation to have dinner with him at the mayor's house. She confronts Ben about the wager, but he shuns it as merely "men's talk."
After a few days, Ben and Lou share a romantic evening dance together at the Grady Squash Festival which leads to a quiet, rowboat trip around the lake. On the lake, Ben and Lou are tempted to fornicate. In the heat of passion, however, he says, "I just can't do this! I want this to be more than a one night stand."
Ben's actions commendably reflect abstinence outside of marriage. With many of this summer's films promoting "free love" (e.g., LIVIN' LARGE, TRUTH OR DARE, 1900), it is surprising to see a character exercise self-control in sexual matters.
Another interesting character in this film is "Hank," better known to viewers as Woody Harrelson of TV's Cheers fame. He is quite funny in his portrayal of a rough, country-talking insurance salesman who can't seem to figure out what he wants out of life.
DOC HOLLYWOOD, with its Green Acre-ish storyline and predictable plot, could have been a wholesome portrayal of community living. Unfortunately, profanity, obscenity, nudity, and scatological humor spoil the picture. The sensuous nude scene of Lou bathing in the lake and the scene of Lou and Ben dropping their pants and urinating in the woods to scare off the deer and thus protect them from the hunters stand out as grotestgue blemishes in this otherwise engaging tale.
These scenes and the language were most likely added to raise the rating to PG-13, but their real effect will be to turn off a large number of people who would have paid to see this light-weight comedy. DOC HOLLYWOOD is a good case study of how the perverse mind set in Hollywood can mess up a cute movie. The filmmakers need to move to Grady to find out how Americans really live.
Now more than ever we're bombarded by darkness in media, movies, and TV. Movieguide® has fought back for almost 40 years, working within Hollywood to propel uplifting and positive content. We're proud to say we've collaborated with some of the top industry players to influence and redeem entertainment for Jesus. Still, the most influential person in Hollywood is you. The viewer.
What you listen to, watch, and read has power. Movieguide® wants to give you the resources to empower the good and the beautiful. But we can't do it alone. We need your support.
You can make a difference with as little as $7. It takes only a moment. If you can, consider supporting our ministry with a monthly gift. Thank you.