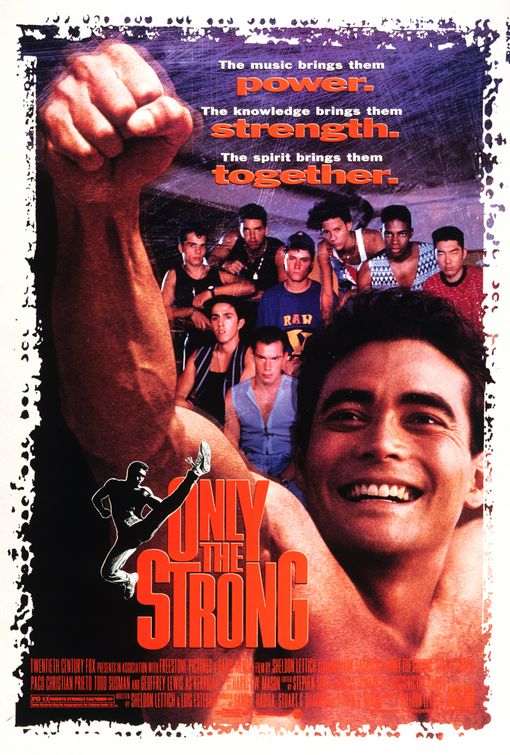 | | None | Light | Moderate | Heavy |
| --- | --- | --- | --- | --- |
| Language | | | | |
| Violence | | | | |
| Sex | | | | |
| Nudity | | | | |
What You Need To Know:
In ONLY THE STRONG, a discharged army officer, returns to his Miami alma mater, now in chaos from drugs and gangs, and turns the lives of twelve tough students around as he teaches them capoeira--a Brazilian martial arts form. Despite the considerable gang fighting and violence, most of it is not bloody (although there is a death), and there is some occultism as part of the capoeira martial arts.
Content:
(H, A/D, LL, M, O, VVV) Humanism; some drug & alcohol abuse; roughly 25 obscenities; drug lords get revenge by setting fire to school; occult in chanting to accompany dance called "capoeira"; and, considerable violence in kick-boxing & practice of martial arts throughout film.
More Detail:
Turning on the false notion of "Survival of the fittest," the film ONLY THE STRONG uses Darwin's evolutionary ideas in the context of a martial arts saga. The film takes cinematic martial arts to their next level by introducing audiences to capoeira, a rhythmic and explosive form of combat which combines driving Brazilian music with remarkable feats of athletic ability. Martial arts expert and discharged army officer Louis Stevens returns to his Miami high school only to find gangs and drugs holding sway. He recruits 12 of the toughest students, teaching them the capoeira–and turns them around. Soon, they oppose the drug lords, and the entire community changes for the better.
Mark Dacascos, in his lead role, comes off almost as a graceful ballet performer as he pirouettes, kicks and turns–all the while dealing effectively with his opponents. Despite the considerable fighting and the violence in brandishing knives, etc., most of it is not bloody (but there is a death). Furthermore, there is also some occultism and some sexual suggestiveness. Commendably, the hard-core delinquents are turned around and begin to improve their sense of self worth through Stevens' instruction. Even though the film promulgates the idea of "only the strong survive," the Bible reminds in many places that "The Lord is my strength and song, and is become my salvation," (Psalm 118:14).