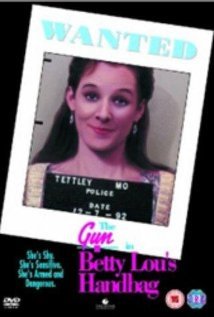 | | None | Light | Moderate | Heavy |
| --- | --- | --- | --- | --- |
| Language | | | | |
| Violence | | | | |
| Sex | | | | |
| Nudity | | | | |
What You Need To Know:
THE GUN IN BETTY LOU'S HANDBAG depicts a frustrated housewife who spices up her life by implicating herself in a crime she didn't commit. With the help of prostitutes and organized crime, she is liberated from repressed femininity. Although the movie arrives at a respectable conclusion and justice prevails, it wrongly implies that raunchy talk and voyeurism liberate women. Also containing non-stop violence, the film is anything but family entertainment.
Content:
(LLL, VVV, SS, A/D, M, B) 27 obscenities & 8 profanities (mostly exclamatory); man cuts woman's lips open with knife, man shot in head, angry outbursts, acupuncture, fist fights, bar brawls, destruction of property, physical assault, murder by sticking knife in man's face, shooting rampages, & blows to stomach, mouth and head; suggestive dress, adultery, bedroom scene, toilet humor, erotic dancing, discussion with prostitutes, sexual fondling & petting; guzzling alcohol & smoking cigarettes; kidnapping, & liberation of repressed female. However, the movie illustrates that husbands and wives need to spend time together.
More Detail:
THE GUN IN BETTY LOU'S HANDBAG begins with the murder of Amos Landsing, a mafia kingpin. The gun used to kill Amos is found by Betty Lou Perkins, who rushes to the police station to share the news with her detective husband, Alex. Insisting he is "extremely busy," Alex refuses to listen. To get his attention, Betty Lou pulls out the gun and says: "I'm guilty. Can I please go to jail now?" Alex is dumbstruck. In jail, Betty Lou raps with harlots, who encourage her to shed her inhibitions. Thus, Betty Lou purchases an erotic dress and goes dancing at a bar. The fun comes to a halt when thugs attempt to kidnap her, assuming she is the mistress and murderer of Landsing. With the mob in pursuit, Betty Lou must use her new self-confidence to solve the murder and show her husband that she refuses to be taken for granted.
Ultimately, justice prevails and Betty Lou and Alex affirm their marriage vows to one another. Although this conclusion is respectable, the movie wrongly implies that raunchy talk and voyeurism liberate women from repressed femininity. Also disturbing is the film's non-stop violence. THE GUN IN BETTY LOU'S HANDBAG is anything but family entertainment.