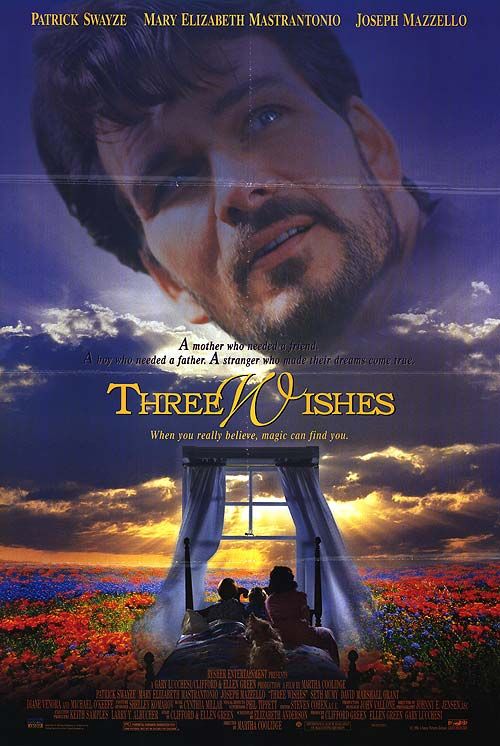 | | None | Light | Moderate | Heavy |
| --- | --- | --- | --- | --- |
| Language | | | | |
| Violence | | | | |
| Sex | | | | |
| Nudity | | | | |
What You Need To Know:
THREE WISHES is a warm, yet forgettable, family-affirming fantasy. When Tommy's mother hits a vagabond man with her car, she takes him into her home for recovery. In gratitude, the man who is the travelling companion of a genie/dog grants the family three wishes. Though containing a magical premise which is abhorrent to God, the film is also a story of family bonds and self-sacrifice.
Content:
(B, NA, O, L, V. N, A, O, M) Moral worldview extolling love between family members with strong magical premise; 6 mild obscenities & 2 exclamatory profanities; man hit by car implied & boys have brief fist fight; brief rear & upper male nudity; alcohol use; and, man meditates & prays in unknown language with no clear non-Christian religion endorsed
More Detail:
In THREE WISHES, we meet Tommy, his younger brother, Gunny, and their widowed mother, Jeanne, set in the 1950's. One day on a drive, Jeanne accidently hits a traveling vagabond named Jack. Feeling guilty, she invites him to stay in her home as he recovers from a broken leg. We discover that Jack is the companion of a genie masquerading as a dog. Now, because Tom's family had been so kind to Jack and the genie/dog, the genie grants each of them a wish. Gunny wishes to be in the middle of a fireworks display, Jeanne wishes for Gunny to get well from his diagnosed cancer, and Tom defers his wish to Jack. The family becomes whole again, and we discover that Jack wished Tommy to be content in all things.
Some viewers will be put off by the magical plot device, which is abhorrent to God. Apart from the magic, the movie focuses on values and attitudes that support family and self-sacrifice. Jeanne took in the stranger and cares for her children. Jack mentions that as a man thinketh, so he is. He concludes with the wisdom to be content in all things. Relative to many films, this film is among the most moral and uplifting. With explanation of the falsehood of magical thinking and the necessity of Jesus Christ for contentment, it can provide two hours of innocuous entertainment.