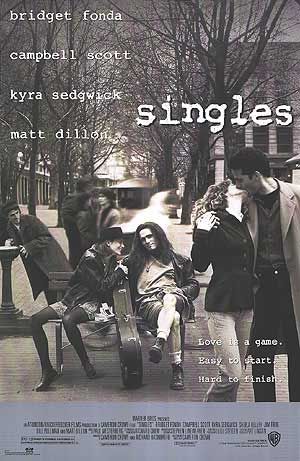 | | None | Light | Moderate | Heavy |
| --- | --- | --- | --- | --- |
| Language | | | | |
| Violence | | | | |
| Sex | | | | |
| Nudity | | | | |
What You Need To Know:
The film SINGLES tells the story of three couples in a Seattle singles complex and follows their lives and loves. The movie contains earthy, realistic cinematography, but also tends toward whimsical acting which belies the veracity of the stories. Unfortunately, SINGLES indicates that fornication apart from marriage is permissible.
Content:
(L, SS, N) 6 obscenities & 2 profanities; implied sexual immorality & two graphic scenes of fornication; and, brief female nudity.
More Detail:
The film SINGLES confirms the universality of love. However, since the individuals in SINGLES have no moral restraints, they operate on the principle of seize the moment–never mind that none of them are married. A Seattle apartment complex provides the setting; and, the story line follows the loves and vicissitudes of six young adults: Janet and Cliff (Bridget Fonda and Matt Dillon), Linda and Steve, and Bailey and Debbie. Hence, Janet and Cliff, although once involved, are now good friends. Linda and Steve are new lovers. And, Bailey and Debbie's relationship goes from intimacy to pregnancy and estrangement back to intimacy as they discover they love each other and will marry.
SINGLES is the result of notebooks kept since 1983 by Director Cameron Crowe (SINGLES being the summation of a trilogy that began with his FAST TIMES AT RIDGEMONT HIGH) as he "eavesdropped" on dating couples. The cinematography is in compelling, realistic, earthy tones which makes the story convincing. However, the acting exhibits a whimsicality which causes the viewer not to take the film too seriously. Unfortunately, the bottom line in SINGLES is that sexual immorality apart from marriage is permissible.