3 Non-Believing Celebrities with Devout Christian Parents
By Tess Farrand, Staff Writer
"Train up a child in the way he should go: and when he is old, he will not depart from it." – Proverbs 22:6 (KJV)
The issue of children turning away from their childhood faith is all too common and makes the verse above difficult to wrestle with. Sometimes it happens during college, or as an act of rebellion. Whatever the reason may be, at some point parents must entrust their children to God, even though we do not always know what that means for their salvation (Rom. 8:28). This is certainly not easy. Nonetheless, there are many celebrities who were raised in Christian households, yet do not walk with Jesus now. For these believing parents, their stories are reminiscent of the prodigal son in Luke 15, waiting for the children to return into the loving arms of their loving heavenly Father.
Katy Perry
Before entering the pop music scene, you might not know that Perry started out singing Christian music. Once music industry executives noticed her talent, they urged Perry to cross over to pop to grow her reach. Perry's first big hit was, "I Kissed a Girl," that follows with lyrics like, "I kissed a girl, and I liked it…"  Perry was raised in a Christian home as the daughter of a minister. Perry's father once said of her controversial hit song, "I was a little concerned, yeah, 'cause I thought my ministry after 30-something years is over. But, you know what? Never had a problem." Since coming into the limelight, Perry has strayed away from her faith. Perry recounts instances growing up where she felt her sexuality was repressed and now considers herself an advocate for the LGBTQ cause.
Takeaway: It seems Katy struggles with the idea that non-Christians could love or fully accept different views on sexuality, religion, etc. Ultimately, when Jesus came to Earth He painted the perfect picture of loving others, something that we are to imitate. But loving someone doesn't equal acceptance of all they believe or do. God cannot accept us without Christ due to our sin-nature, but by His grace he allowed Jesus to bridge the gap of our brokenness. This is the good news! We must make a conscious choice to forgo our sinful tendencies to walk in the fullness of life.
"But if serving the Lord seems undesirable to you, then choose for yourselves this day whom you will serve, whether the gods your ancestors served beyond the Euphrates, or the gods of the Amorites, in whose land you are living. But, as for me and my household, we will serve the Lord." – Joshua 24:15 (NIV)
Brad Pitt
With roles in movies in movies like WORLD WAR Z and FURY, Pitt's stardom provides him many blessings and opportunities. When Pitt was growing up, his mother, Jane, raised the actor in a Southern Baptist home, but sadly, Pitt no longer subscribes to his Christian roots. "Many people find religion to be very inspiring…. Myself, I found it very stifling. I grew up with Christianity, and I remember questioning it greatly," he told GQ magazine in 2011.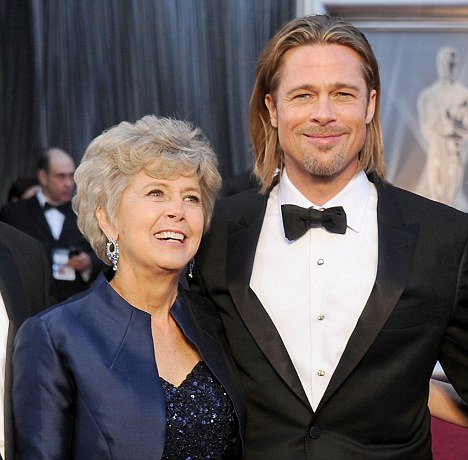 Takeaway: Perhaps Pitt's questions never received proper attention as he grappled with the saving factor of Jesus' grace compared to legalism. It's possible to get caught up in religious practice and neglect grace. However, the strength of Christianity comes from and understanding that because we're saved by grace, we're able to obey the ways of Jesus, not out of duty or to earn salvation, but because we love God and want to commune with Him.
"For it is by grace you have been saved, through faith—and this is not from yourselves, it is the gift of God— not by works, so that no one can boast." – Ephesians 2:8-9 (NIV)
3. Jennifer Lawrence
The actress grew up in the Bible-belt in Louisville, KY where her mother raised her to be very religious. Lawrence even attended the Movieguide® Awards in 2007. Yet, as Lawrence came into adulthood and she saw major success with THE HUNGER GAMES, her views changed. "I just believe in that thing, that something, whatever it is, that I do believe in," she said. "I don't think it identifies as a man. To argue over what it is ridiculous because none of us have the answer."
Takeaway: Although Lawrence prays, she does not pray to the One and only God through Jesus' name. Rather, Lawrence's views are a combo of new age ideology with some snippets of Christianity. However, neglecting Jesus is evidence of walking in darkness. Perhaps Lawrence's spirituality comes in part because she believes the Bible is dated rather than the living word and that Christian principles are old fashioned.
"Jesus Christ is the same yesterday and today and forever." – Hebrews 13:8 (NIV)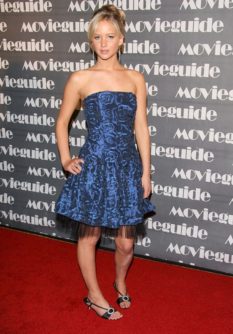 So, what can we do if this happens to our children? First and foremost, we can pray. Humbly submit ourselves and our children to God's intercession. We can also choose to love them despite differing views and continue to be a positive influence in their life.
Like the father of the prodigal son, parents can be ready to accept their children with open arms and throw them a feast to celebrate their return.
"See how great a love the Father has bestowed on us, that we would be called children of God; and such we are. For this reason, the world does not know us, because it did not know Him." – 1 John 3:1 (NASB)