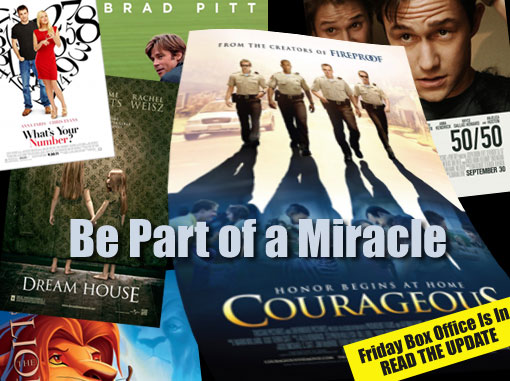 By David Outten, Production Editor
——————————————————

UPDATE: Box Office Weekend Estimates (from thenumbers.com)

DOLPHIN TALE . . . . . . . . . $14,245,000 per theater avg. $4,053
MONEYBALL. . . . . . . . . . . .$12,500,000 per theater avg. $4,167

THE LION KING . . . . . . . . .$11,057,000 per theater avg. $4,725

50/50 . . . . . . . . . . . . . . . .$8,858,000 per theater avg. $3,600

COURAGEOUS . . . . . . . . . .$8,800,000 per theater avg. $7,580

DREAM HOUSE . . . . . . . . . $8,209,000 per theater avg. $3,085

WHAT'S YOUR NUMBER. . .$5,600,000 per theater avg. $1,865

This early Sunday estimate is not the final result. By seeing COURAGEOUS Sunday you can help send Hollywood a profound message. The race for top new movie is VERY close.

——————————————————

This weekend the powerful Christian movie COURAGEOUS (by the same people who brought us FACING THE GIANTS and FIREPROF) opened at 1,161 theaters.
In competition Hollywood is offered two new R-rated comedies and a PG-13 horror show on a total of 8,000 theater screens. This matchup is an opportunity for a box office miracle. COURAGEOUS is truly "facing the giants."
The good news is that COURAGEOUS is highly anticipated by Christian movie lovers. It's the fourth movie made by Alex and Stephen Kendrick. Their first movie FLYWHEEL (2003) showed in few theaters but did well on DVD. Their second movie FACING THE GIANTS (2006) opened in 441 theaters, grossed $1,343,537 opening weekend, and went on to make $10 million in theaters and $20 million on DVD sales. Their third movie, FIREPROOF (2008), appeared in 905 theaters, made $2,258,000 opening weekend and went on to make $33 million in theaters and $32 million in DVD sales.
If COURAGEOUS were to do better box office this weekend than its R-rated and horror show competition, Hollywood's interest in making Christian movies would be raised higher than it currently is.
Box Office Mojo predicts COURAGEOUS will bring in $7 million and place seventh for the weekend. They wrote: "With no fewer than six movies fighting for the top spot, it's shaping up to be a hectic weekend at the box office. Anna Faris comedy reaches around 3,100 screens at 3,002 theaters, while Daniel Craig thriller DREAM HOUSE opens at roughly 2,850 screens at 2,660 locations and cancer comedy 50/50 debuts on around 2,600 screens at 2,458 theaters. Also, Christian flick COURAGEOUS hits approximately 1,400 screens at 1,161 locations, though it's unlikely to be in contention for the lead." Box Office Mojo did note that COURAGEOUS, "was the top-selling new release on Fandango as of Wednesday."
The Los Angles Times writes, "The odds are slim that 50/50 — or any of the other three movies debuting this weekend — will take in more money than a few popular films already in theaters. Holdovers including the well-reviewed baseball drama MONEYBALL, family film DOLPHIN TALE and the 3-D version of THE LION KING are all expected to bring in between $13 million and $15 million this weekend, according to those who have seen pre-release audience surveys. That should be well ahead of the quartet of new pictures, which also include costly thriller DREAM HOUSE starring Daniel Craig and Rachel Weisz, Christian drama COURAGEOS," and romantic comedy WHAT'S YOUR NUMBER?"
Thenumbers.com provied this expectation: "COURAGEOUS is being sold to the same target audience that made FIREPROOF a hit in 2008. However, while that film was a hit, many films aimed at churchgoers also struggle at the box office, and very few find crossover success. The film currently only has two reviews on Rotten Tomatoes, but this is a critic-proof film. It is only playing in 1,000 theaters, so reaching the top five is probably out of the question. It could also bomb and miss the top ten. Seventh place with $6 million is probably a pretty safe bet."
With Hollywood's expectiations being low Christians have a golden opportunity to make an impact.
You can be a part of encouraging Hollywood to make better movies by seeing COURAGEOUS this weekend. The movie is worth the price of tickets. It has action, humor, drama, and a wonderful message about fatherhood. The Kendrick brothers do a great job mixing entertainment value with inspirational messages.
The opportunity to send a message like this to Hollywood executives, producers, and writers doesn't come often. Please get out and see COURAGEOUS this weekend because Hollywood pays the most attention to opening weekends.
Also, pray for the movie to impact the lives of millions of parents and children. This is the kind of movie God can use to touch the hearts of parents and children. While encouraging Hollywood to make uplifting movies is a good thing to do, encouraging men to be better fathers is even more profound, righteous, and holy.
Finally, you can help Movieguide® promote the Good, the True, and the Beautiful by spreading the word about this ministry and our website, www.movieguide.org, and by making a donation by calling 1-800-899-6684 or visiting here at https://www.movieguide.org/donate.
The mass media creates the culture that shapes the hearts and minds of children and teenagers.