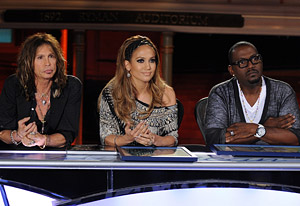 Pictured above: "American Idol's" Steven Tyler, Jennifer Lopez, Randy Jackson.
The recent 10th season premier of the popular show "American Idol" fell dramatically in the ratings compared to last year's kick-off. This news doesn't come as a surprise to most Idol worshippers, especially those devoted to Simon Cowell, who left the show.
The premier was watched by only 26.2 million viewers, down 13 percent. The most significant demographic declines were among teens, whose viewership dropped a sizable 28 percent. Among the adult 18-49 demo, the ratings dropped 18 percent from last year. This plunge signifies the lowest-rated premier for the show since its opener in Summer 2002.
Thursday morning, Fox insiders responded positively to the disappointing ratings, saying the reviews have been respectable overall, fans are embracing new judges Jennifer Lopez and "Aerosmith" front man Steven Tyler, and that the less than stellar premier still obliterated its competition such as the politically correct "Modern Family."
Fortunately for Fox, as the two-hour telecast continued, the ratings went up.
America's television phenom will face a new challenge when it goes head to head with popular programs on Thursday nights.
– Source: Inside TV, Entertainment Weekly, 01/20/11.