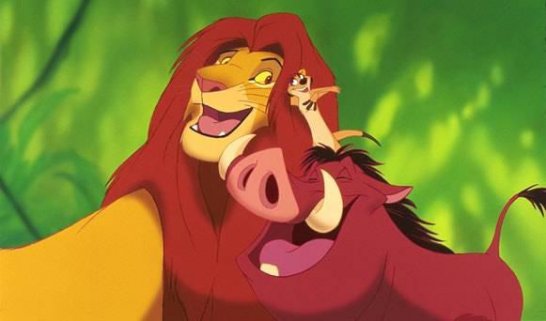 The beloved Disney movie THE LION KING made a roaring, three-dimensional return to theaters last weekend, earning $30.15 million from 2,330 locations.
This marks the first time since STAR WARS: EPISODE VI – RETURN OF THE JEDI marveled a new generation in cinemas back in 1997 that a re-release has topped the box office charts. The jungle gang also stampeded by Buzz and Woody, grossing over twice as much as the TOY STORY and TOY STORY 2 3D re-release in October 2009.
---
Combined with its wild success in 1994 and an IMAX re-release in 2002, THE LION KING has earned a total of $358.6 million. Several theories exist to explain the wild success of Simba and his furry friends' impressive performance this weekend, including the nostalgic lament that family movies today just aren't what they used to be. Others hold that the film's third wave of success is indicative of audiences' growing interest to revisit old favorites in 3-D.
A family-friendly flick overwhelming cineplexes abroad is THE SMURFS, which has led the foreign box office for the sixth straight weekend! Last weekend it earned an additional $18.2 million from 72 markets for a very grand $345.6 million foreign total. Worldwide, THE SMURFS have earned $483.2 million, likely surpassing another animated blue creature named RIO to become the highest-grossing non-sequel of 2011.
The stunning success of these two family movies clearly underscores the universal desire and enthusiasm for family films filled that uplift, inspire and entertain responsibly.
– Source: Bix Office Mojo, 09/20/11, The Week, 09/19/11.