Published: January 20, 2022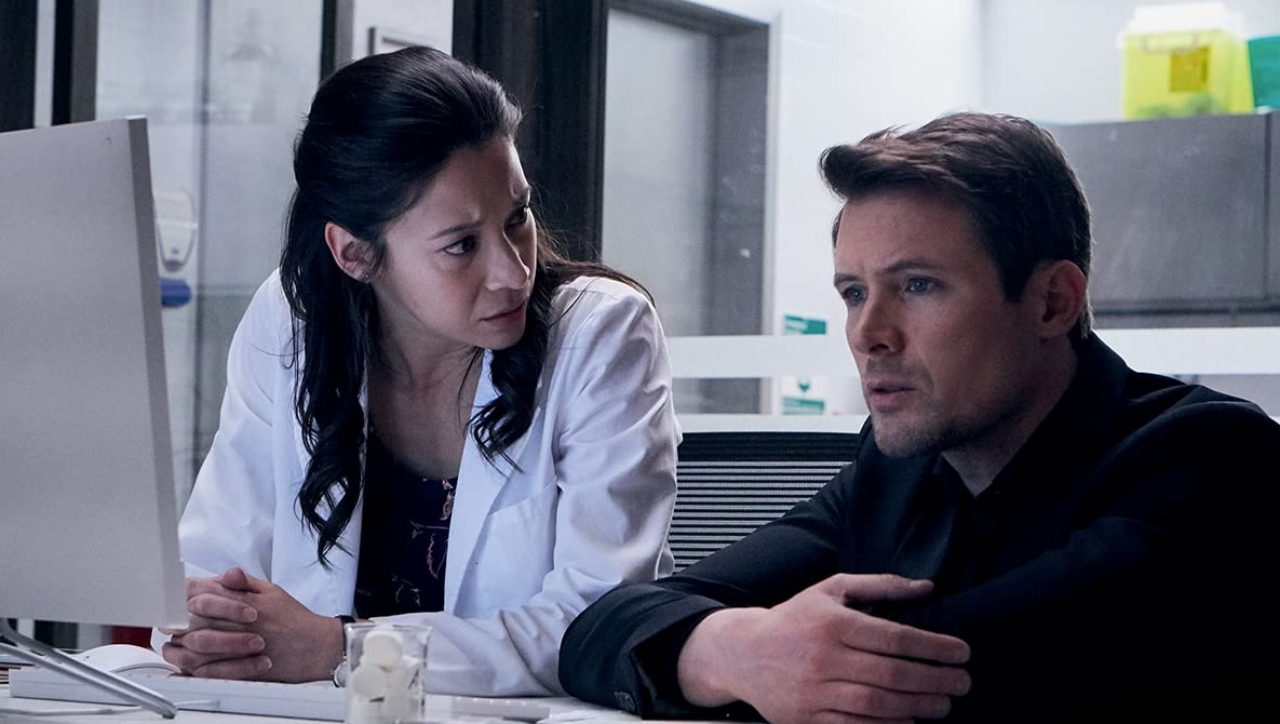 HUDSON & REX: Suspenseful Tales With Wagging Tails
By Movieguide® Contributor
With the scenic backdrop of the rugged coastal, Canadian city of St. John's, HUDSON & REX is an engaging police detective drama whose first season is streaming on UP Faith & Family after premiering on Canada's Cititv via Rogers Media.
After each episode's opening introduces us to a body — most times dead and sometimes almost — Detective Charlie Hudson arrives on the crime scene with his four-legged partner Rex, a K-9 unit-trained German shepherd now working Homicide Division. With the backup of a wider team of experts in the department, Hudson and Rex travel the greater metropolitan area to follow-up on their clues through interviews with various witnesses and persons of interest. 
The recurring stars of the Homicide Division team feed compelling leads to Det. Hudson throughout each episode: the forensics lab expert Sarah Truong provides facts gleaned from analysis of the physical evidence; confirmed IT nerd Jesse Mills gathers video cam footage, contact info, and everything else he can bring to bear for the case from the worldwide web; and division Superintendent Joe Donovan lends a steady hand and wise advice as the head of this busy office.  The show's fast-paced editing has us follow Hudson and Rex as they move from conversations with their homicide team members to conversations with witnesses and persons of interest, of which there are always three or four per episode that the viewers might call suspects, but that Hudson never so labels. The writing is crafted well enough to keep most viewers suspecting every one of them, while not being sure of anyone in particular.  And don't forget Rex! While Hudson is busy in his interrogations and conversations, Rex can be found sniffing out further clues, giving comfort to the distressed, chasing down someone leaving the scene in an untimely manner, or pining for the sandwich left within striking distance. There is no doubt a resource for some of Rex's performances and antics, as HUDSON & REX is a Canadian remake of what was originally a very popular Austrian TV production that ran from 1994 to 2004 titled "Kommissar Rex".  Though the mystery of each week is solved within that episode, there are longer story arcs that fill out the personal lives of some of the main characters. For instance, Superintendent Donovan is a single father; we meet the daughter in Episode 4, and the estranged wife in Episode 12. Hudson and Truong develop a modestly appropriate relationship interest from Episode 3 on through the remainder of the season. A last, but mysterious example: Hudson has a motorcycle in his living room that never leaves the place. Various episodes teasingly show motorcycle parts and paraphernalia around his living space, but no mention is ever breached all season long as to the reason for this unusual, yet masculine interior decor. Additionally, throughout the season, we never see him ride a motorcycle, though he does commandeer a snowmobile in one of the last episodes. This unique loose end, as well as the others, should provide some great material for future scripts.
HUDSON
 & REX Season 1 advances a strong moral worldview, portraying a diverse team of honest law enforcement officers working hard, long hours to find facts, perpetrators, and justice on behalf of the public they serve. At the same time, as a crime drama, the show portrays various persons of interest who, besides a moral worldview, also live from strong amoral and immoral stances. From financial gain from devious means, to fatal accident cover-ups, to crimes of passion, to hired hitmen, police dramas cover a wide spectrum of human behaviors and motivations, and this show is no exception. Yet 
HUDSON
 & REX does not glorify crime or criminals, and rather, celebrates honesty, integrity, lawfulness, hard work, excellence, and teamwork, all for the pursuit of truth and justice.
Along the way, the script does display content worth a heads-up. In about half the episodes, moderate profanities were used at least once, but no more than three times in a whole script. Since 
HUDSON
 & REX portrays the work of a homicide unit, dead bodies, pools of blood, and drawn guns are common, but not graphic.
Full nudity is non-existent, and both an exposed shoulder in a photo of a romantic encounter, as well as a sheet-covered male cadaver exposed from mid-chest on up are the rare examples of partial nudity. In the same vein, no sexual content is depicted, but is only occasionally hinted at when love affairs are discussed; all the while, no graphic details are then provided. In episode 10, a male murder victim has a male partner, but again, no graphic details are mentioned or envisioned.
Alcohol and drug consumption has various depictions: there is one episode that focuses on the work of an addiction recovery center; partying with such substances is described in interviews, but not shown; and a couple of different occasions,
Hudson
shares a beer socially with Truong alone in his apartment.
Lying is the most common misbehavior in each episode. Persons of interest habitually lie in their interviews with
Hudson
, guarding personal secrets that may or may not be pertinent to the case. More surprisingly, Det. 
Hudson
 lies in two different episodes to, of all people, his boss, Superintendent Donovan. One is a small white lie that avoids taking credit for something good that Donovan's daughter did. The second will go in 
Hudson
's file, as he lied about a suspect's whereabouts in order to protect her from a pursuing hitman. Though 
Hudson
 was successful in his protection, Donovan promised at least a light consequence.
HUDSON
 & REX Season 1 upholds high production values. Lighting, camera work, and scene framing is definitely tops. The screen writing is exemplary, keeping things simple, clean, and suspenseful.  Only three episodes contained noticed continuity problems, two of which were minor "driving around town" scenes. The third was also a minor detail to the crime under investigation in episode 8, but was important to setting up a back-and-forth with bearing upon 
Hudson
 and Truong's budding relationship. At a crime scene, 
Hudson
 exits his vehicle holding a coffee cup: in the next scene, his hands are empty; next cut, the cup is back; next cut gone again; next one, it reappears again, and this time Truong notices 
Hudson
's cup has a woman's name and phone number written on it, which initiates chatter about that. Fortunately, 3 noticed goofs out of 13 episodes proved a minimum of distraction to what is overwhelmingly a well produced and scenically stunning show.
With an upbeat pace, unpredictable stories, a  crime-solving team with great chemistry, a touch of humor here and there, and a memorable canine hero, 
HUDSON
& REX Season 1 is a winner for a wide range of audience members. Even with it's strong moral biblical worldview, it does portray some minor questionable elements, and also has law-breaking in each plot premise; Movieguide® advises discernment for younger children.