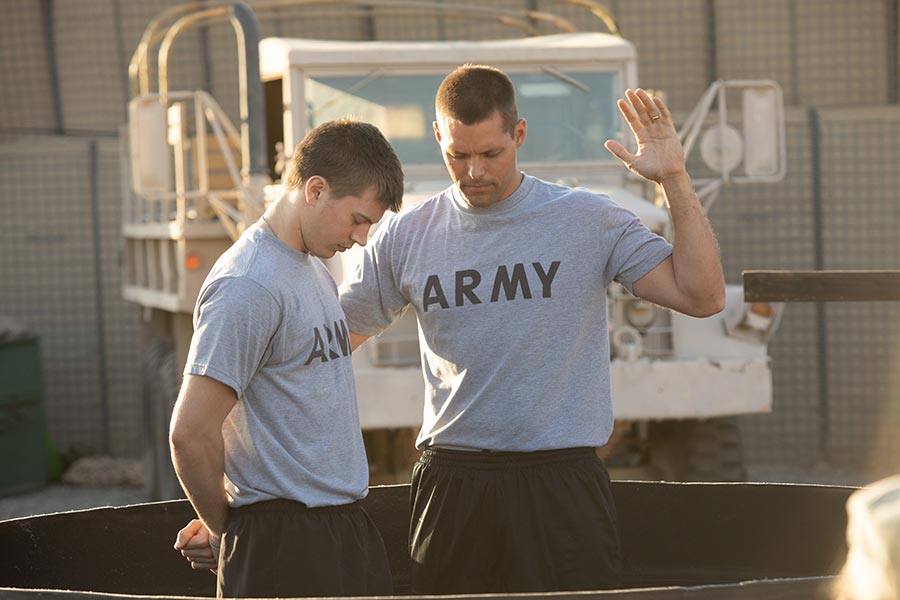 INDIVISIBLE Writer/ Director Hopes to See Reconciliation Manifest
By April Phillips
Dr. David G. Evans is an eye doctor in Memphis, Tenn. With the recent release of INDIVISIBLE, he is also a two-time Christian movie director. However, Evans peers further, hoping to see renewal in people who see his movies.
In his 2011 movie, THE GRACE CARD, those people might have overcome racial differences, while in INDIVISIBLE, the people most central to the story are married couples. Yet, Evans hopes his movies will motivate everyone.
"I know people that watched THE GRACE CARD that are Atheists, agnostics or who have Muslim beliefs," he said. "But, they still come out saying, 'Wow, I'm an Atheist, but there are so many things I took away from that story.'"
The same will likely be so with INDIVISIBLE, a movie Evans co-wrote, that shares the true story of the Turner family.
Darren Turner is an Army chaplain who's deployed to Iraq for 15 months. He, his family back home, and his fellow soldiers, all endure various trials that test their spiritual mettle. Eventually, the Turners see a senior chaplain for counseling, and that helped them turn the corner.
"They're talking to other people who've been through this and listening to them and understanding that, yes, it's a hard battle, it's a hard fight," Evans said.
"But again, we see them praying, we see them putting God at the center of their marriage and using God's grace to offer forgiveness to one another," Evans said.
Fictitious characters who Evans added show how God works in others' lives. There's an angry husband, a single mother, and a widow. Soldiers question the meaning of life and even wrestle with God's purposes. Turner goes through a time where he loses himself, and nearly his family. That's what drew Evans to write the real-life story into a screenplay.
"Their marriage had really come to an end," said Evans, who is concerned about the number of divorces in America. "If it can happen to a chaplain, who's there, who's really the pastor to the troops, it can happen to any of them."
Evans wasn't afraid to show that Christians are imperfect. "We've all seen and probably know pastors who have fallen from grace," he said. Accepting Christ as your Savior, "doesn't mean that you won't be attacked by the enemy." In addition to prayer and counseling, Darren fight evil by putting on the armor of God and encouraging everyone around him to do likewise, although some are more reluctant than others.
Communicating godly truths to audiences may be more effective through movies, than a sermon or a book. As Movieguide® often states, and Evans reaffirms, society is strongly influenced by movies and TV shows. "People will buy a movie ticket who will never darken the doors of a church," he said.
Evans' hopes that after watching, a couple would get in their car, drive home and talk about it, not lament they wasted two hours. He wants to give audiences "little nuggets of life lessons that they can chew on for a few days, and that will hopefully impact their relationships."
To Evans, making heartfelt movies that make a difference and point people to God is a ministry. To him, that is what defines whether his project is a success.
After a woman saw THE GRACE CARD a few years after her divorce, the movie touched her in many ways. Evans said, "She felt led to give her ex-husband the movie as well." After he watched it, they began talking, they forgave each other, and they even remarried. The same couple was invited to the set and were placed as extras in INDIVISIBLE.
"The greatest part of this journey," Evans said, is hearing those kinds of stories. "If the movie brings a couple closer to God… then, we've done our job."
***
A novelization of INDIVISIBLE and the Thomas Nelson devotional book, Indivisible: One Marriage Under God, are available at retailers.
**
INDIVISIBLE opened Oct. 26 in theaters. THE GRACE CARD is available to watch online through various platforms.
**
If you know a military family who may need marital support, go to thewarriorsjourney.org. All families can check out familylife.com, and/or seek wise, biblical counseling when needed.