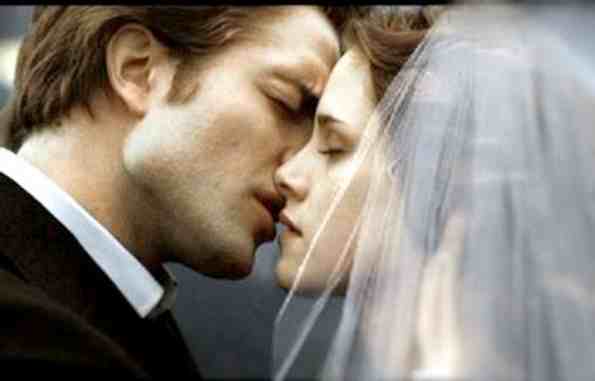 By David Outten
THE TWILIGHT SAGA is a wildly successful series of books and movies built on a tale of forbidden "love." Talk with the typical Twilight fan, and you quickly learn that the main appeal of the movie is a story of love that reflects and even goes beyond the usual Hollywood infatuation. Fans enjoy seeing Edward and Jacob being prepared to sacrifice their life for the benefit of Bella. Add in the danger presented by vampires and werewolves, and you have a modern Romeo and Juliet tale of forbidden, sacrificial love.
Contrast THE TWILIGHT SAGA with THE BACHELOR. The bachelor has twelve girls telling him "I think I'm falling in love with you," in order to stay on the program week to week. THE BACHELOR presents love as being a matter of finding someone with the right "chemistry." Hollywood loves "chemistry."
If you watch ENTERTAINMENT TONIGHT, you'll seldom see a story about a Hollywood couple that's been happily married for 30 years. It's all about who is "falling in love" with whom.
God has much higher standards. Its standard for love is far above THE BACHELOR and ENTERTAINMENT TONIGHT and even goes beyond THE TWILIGHT SAGA. To grasp God's concept of love, you must understand it's not based on feelings. It's based on commitment followed by action. By God's standards, love is not what you feel. It's what you do. Feelings follow the behavior of love. They don't lead the behavior.
Imagine how you'd feel if someone showed you this kind of love:
"Love is patient and kind.
Love is not jealous or boastful or proud or rude.
It does not demand its own way.
It is not irritable, and it keeps no record of being wronged.
It does not delight in evil but rejoices with the truth.
Love never gives up, never loses faith, is always hopeful, and endures through every circumstance."
1 Corinthians 13:4-7
Yes, it's wonderful to feel loved. Feelings are an important part of life, but if feelings are all that bring a couple together, then they may not remain a couple when the feelings fade.
Godly love stays strong through difficult circumstances because it does not need feelings to survive. However, when you make a commitment to love someone by God's rules, the feelings of love can rise to heights you will never experience in simple infatuation. The love shared by a couple who've practiced God's love on each other for 50 years is amazing.
When you're in your golden years, would you feel more love if you'd been through 50 years of ups and downs with a person who's shown you God's love, or if you'd been through a series of marriages built on the ebb and flow of your feelings?
Read the gossip magazine available at your local grocery store, and you'll see what Hollywood considers love. It's a sham compared to the real thing, but more and more couples around the world are settling for the sham.
If you're dating someone and you want to know if they really love you, put them to the test:
Are they patient and kind?
Do they avoid being jealous, boastful, proud or rude?
Do they demand their own way?
Do they easily become irritable?
Do they keep a record of your mistakes?
Do they rejoice about good wholesome things and avoid bad things?
Are they faithful and optimistic even in difficult situations?
Are they the kind of person who'd show you this kind of love through thick of thin?
Are you the kind of person who will show them this kind of love?
If you're looking for someone who will show you the sacrificial love you see in Edward from THE TWILIGHT SAGA, look first to Jesus Christ. He was brutally beaten and crucified showing sacrificial love for you. He taught and demonstrated true love. He has called all who follow Him to show that kind of love to others.
Imagine how much different the world would be if everyone sought to share God's love with one another.