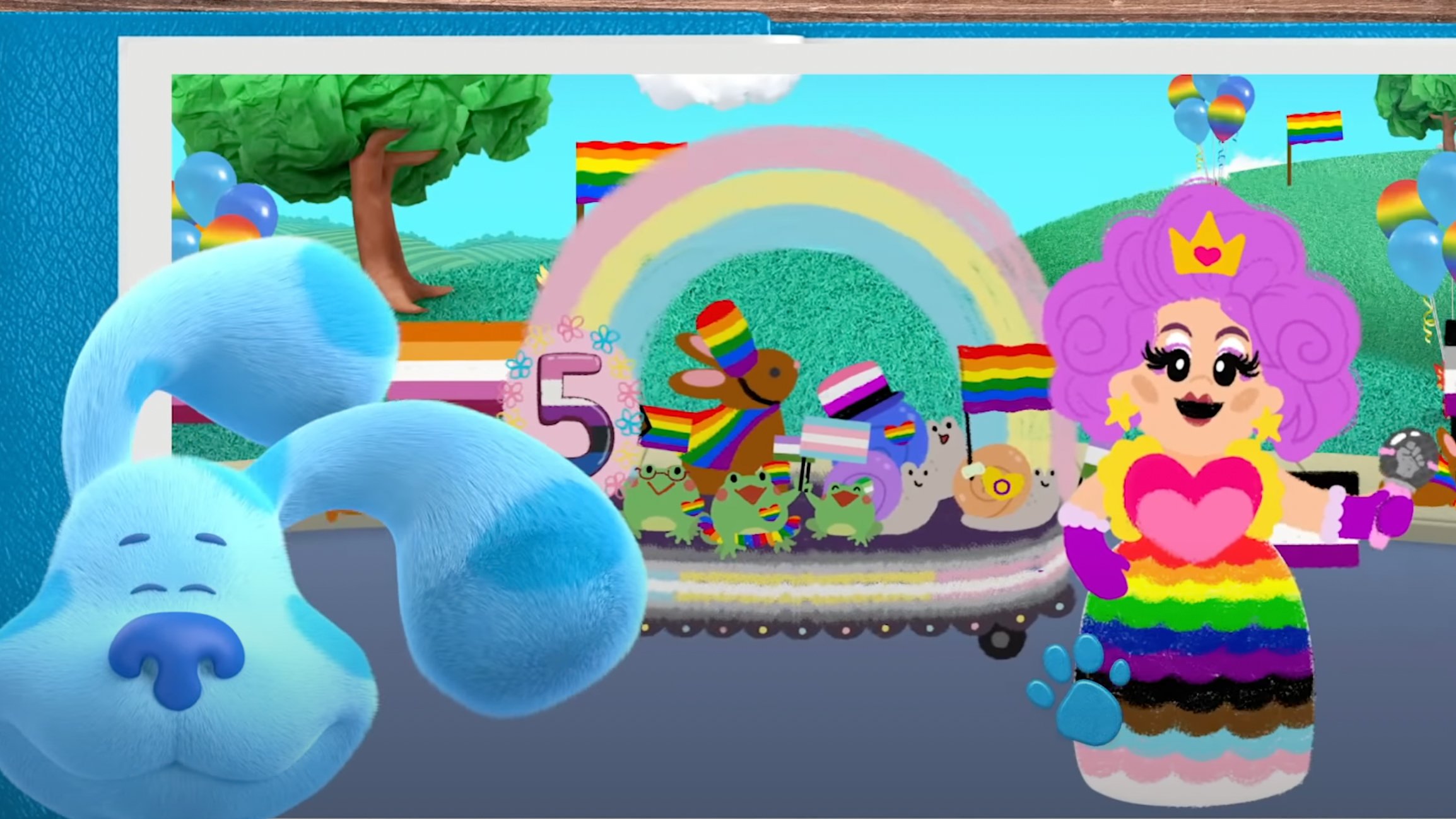 Previously Family-Friendly Shows Embrace LGBTQ Storylines
By Movieguide® Staff
Major television channels such as Cartoon Network and Nickelodeon are changing many classic animated cartoons to embrace unbiblical definitions of sexuality and gender expression.
Child advocates recently took a stand to oppose Nickelodeon's newest BLUE'S CLUES children's program called BLUE'S CLUES & YOU! for its "predatory" content.
The video takes place at a Pride parade and is emceed by an animated version of drag performer Nina West.
The animated West sings an adapted version of "The Ants Go Marching," which highlights many LGBT themes in the video like families with two moms, two dads, and trans-identified members parents.
"Love is love is love you see, and everyone should love proudly," West encourages during the sing-a-long. "Allies to the queer community can love their friends so proudly."
Also featured in the video is a group of beavers wearing armbands with the transgender flag colors. One of the beavers is depicted as having scars on his chest to show the character had had a cosmetic double mastectomy.
Parents and other critics were outraged at the blatant sexualization of the children's animated cartoons.
"That Blue's Clues has decided to add sexuality and gender material to its programming is both disappointing and disturbing," Maria Keffler, author of the book Desist, Detrans, & Detox: Getting Your Child Out of the Gender Cult, told The Christian Post. "Pre-adolescent children do not nor should not have explicit knowledge about or driving interest in sex or gender identity. Ethical professionals who work with children have long recognized that when young children are conversant about sexual behaviors, this is strongly suggestive of having been introduced to such material by adults who do not have the child's best interests at heart.
"A well-documented tactic that child sexual predators employ when grooming a child for sexual abuse is to introduce sexual topics and materials to the child who is being targeted," Keffler added. "'Blue's Clues' introduction of sex and gender material indicates either a troubling lack of understanding about the basics of child psychological development or that the show's writers and producers intend to groom children toward early and developmentally inappropriate encounters with sex and gender topics."
BLUES CLUES & YOU! is not the only example of a cartoon targeting young children with highly sexualized content.
The recently announced reboot of the children's classic RUGRATS will feature a lesbian single mom.
The original RUGRATS followed a group of toddlers "as they explore the world and beyond from their pint-sized and wildly imaginative point of view."
While the 2021 version is the same in almost every respect, Betty—the mother of Phil and Lil—is now portrayed as a lesbian.
While most of the characters from the original series returned for the 2021 version of RUGRATS, the reboot will have a noticeable difference: Betty, the mother of two main characters, Phil and Lil, will now be portrayed as a lesbian single mom.
Actress Natalie Morales (PITCH PERFECT 2), who is candid about her queer identity, said she is excited for more representation in the show.
"Betty is a single mom with her own business who has twins and still has time to hang out with her friends and her community, and I think it's just so great because examples of living your life happily and healthily as an out queer person is just such a beacon for young queer people who may not have examples of that," Morales said. "And yeah, Betty is a fictional cartoon, but even cartoons were hugely influential for me as a kid and if I'd been watching 'Rugrats' and seen Betty casually talking about her ex-girlfriend, I think at least a part of me would have felt like things might be okay in the future."
In the original show, Betty was married to her husband, Howard.
The streaming service Disney+ also announced that the relaunch of THE PROUD FAMILY plans to feature a teenage activist with two fathers. SESAME STREET also posted to social media to celebrate Pride Month.
"No child is born in the wrong body, and how dare anyone suggest that they could be," Keffler said in regards to gender confusion and media targeting young children. "Blue's Clues, sadly, is no longer a trustworthy partner to parents."
Other conservative commentators noted the shift in children's media and the importance of protecting those most vulnerable.
"Our families, and especially our youth, are being corrupted and destroyed by the messages being sold in the mass media of entertainment. Even our churches have been unable to give their members, especially their youths, sufficient help in avoiding the negative impact of our entertainment culture. In fact, many churches are clueless about the extent of the problem in their congregations. Other churches have opted for an anything goes attitude. As a result, the children have suffered, and the parents agonize over to how to deal with the problem. They don't want their children to abandon biblical morality and go off as teenagers or college students into the toxic lifestyles promoted in the media," Movieguide® Founder and Publisher Dr. Ted Baehr writes in The Screen-Wise Family.
"As one friend noted when, after exploring media-wisdom with me, he came to faith in Jesus Christ, that 'God gave me back my mind,'" Baehr continued. "God wants us to think clearly, and so He tells us in His word to develop discernment, get wisdom and acquire knowledge. These parenting articles will help you to do just that by giving you the media awareness and biblical discernment skills to overcome the powerful influences and artificial peer pressure of the mass media of entertainment."
Read Also: BLUE'S CLUES Reboot Boasts LGBTQ Pride in New 'ABC' Song
Read Also: Cartoon Network Tells Children: 'There Are Many Gender Identities'