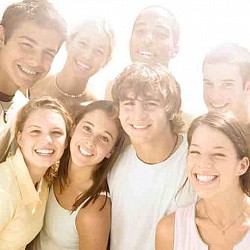 Teenagers are citing "religion" and "morals" as chief reasons for remaining virgins. Among the other reasons given for abstaining, according to a report from the Centers for Disease Control and Prevention, were "haven't found the right person yet" and "don't want to get pregnant."
Between 2006 and 2007, 42% of U.S. female teenagers and 43% of males said they have had sexual relations.
This is a significant decrease compared to 51% of females in 1988 and 55% of males in 1995. It also reflects MOVIEGUIDE®'s recent findings that, due to MOVIEGUIDE®'s Annual Report to the Entertainment Industry showing Hollywood that movies with no depictions of sex make the most money, movies with no sexual content have increased from 58.57% of the market in 1996 to 63.18% of the market in 2009 and movies with no explicit sexual nudity have increased from 61.43% in 1996 to 73.29% in 2009!
For those teenagers who said they were sexually experienced, the majority first said they had sexual relations with someone they had been dating steadily, while 14% of female and 25% of male teens engaged in such behavior for the first time with a new acquaintance or a friend.
– Source: Christian Post, 06/03/10.