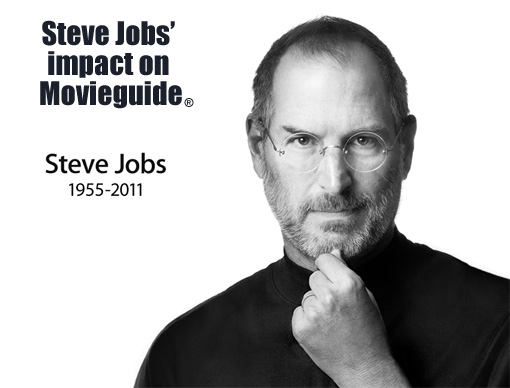 By David Outten, Production Editor
The death of Apple Computer co-founder Steve Jobs this week got me to thinking about the impact Mr. Jobs had not only on the world but also on Movieguide®.
In 1987, I moved to Atlanta, Georgia to become editor of a newspaper called The Atlanta Christian News. We published early Movieguide® reviews in the newspaper. The publisher of the paper was a friend of Ted and Lili Baehr. When I was introduced to them, Ted would type out reviews on a typewriter. They would be pasted to large sheets of paper, and Lili would go to Kinkos, reduce them to look more like a newsletter, print them in quantity, and send them out to a growing mailing list.
As editor of the paper, I had access to a Macintosh Plus computer and one of the very first Apple laser printers. I began to typeset Movieguide® early in the desktop publishing revolution. Ted used to send me reviews using a modem. It took several minutes to download text that would now come in an instant. Soon we were adding images, making real magazine covers and adding color.
I used to have to drive the finished product many miles to our printer. The image files would have been too large to send over a modem.
As the years passed, Movieguide® became a beautiful full-color magazine. For a time the magazine was created by Gib Dickey's Atlanta Communities Magazine staff, on Macintosh computers. I moved into a new field as a FileMaker database developer for clients like Coca-Cola, Emory University, and the State of Nebraska.
I returned to Movieguide® and have used Macintosh computers to design data systems that manage and analyze movie reviews, track donations and help seat guests at the Movieguide Awards. Movieguide®'s newsletters and website content are created on Macintosh computers. And, the whole staff in the California office now works on Macs.
Steve Jobs is reputed to have been less than a pleasant boss. His public comments leave serious doubt he believed in Jesus Christ. But, he was a visionary who grasped the significance of small things that he turned into technological revolutions. An early fascination with subtleties of typefaces was one of them.
In 1984, I felt led to put out a Christian newspaper. The age of personal computers was in its infancy. I looked at Commodore computers, IBM PCs, and others with black screens and green monotext. One day, I walked into a store selling the Apple Macintosh. There I saw several black typefaces in different sizes on a white background. Steve Jobs would not settle for green monotext on black screens. The desktop publishing revolution took off.
Since then Steve Jobs revolutionized motion picture animation, the music industry, and the telephone. I was hoping he would get to TV before he passed away. I hate TV remotes. I know he could blow it away with something profoundly simple and elegant. I can't see anyone but Apple daring enough to revolutionize television.
One of the greatest things Steve did was to buy Pixar and keep it alive until it revived the family film business. Disney was dabbling in adult fare and doing poorly at providing quality family entertainment. Pixar raised the bar. They reminded Hollywood how large the market is for clean, wholesome family entertainment. Pixar showed that, if you're consistent in telling great stories, keeping things clean and demanding quality your name becomes a reason to look forward to your next product. Nowhere is this more obvious than at Apple.
We will learn if Pixar and Apple can maintain these high standards without Steve. Let's hope they do. They've made the world a better place.