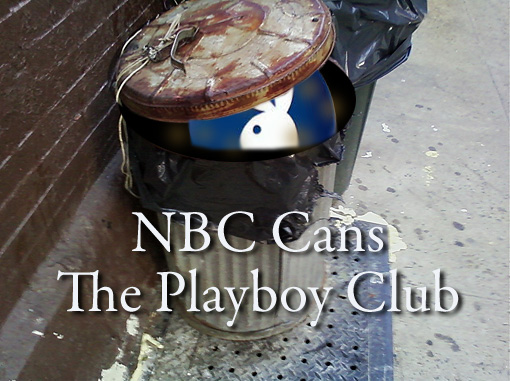 By David Outten and Tom Snyder
With ratings in the tank, advertisers dropping like flies, and groups from both the left and right opposing the show, NBC canceled its controversial series THE PLAYBOY CLUB after showing only three low-rated episodes.

"This is a victory of righteousness over indecency," Movieguide® Publisher and Founder Dr. Ted Baehr said.
"Hugh Hefner's Playboy company and its licentious nightclubs led the way in fomenting the so-called Sexual Revolution in the 1950s and 1960s, which has been an absolutely disaster for families, children, teenagers, and America."
Dr. Baehr noted that Hefner's company not only corrupted millions of fathers, it also corrupted their young children.
"Hefner should be in jail for decades of inciting child sexual abuse," he added.
NBC will replace the show with reruns of the detective drama PRIME SUSPECT until ROCK CENTER, a new news magazine show with Brian Williams, is ready October 31. The idea that Brian Williams is "in the center" should qualify the show as a comedy.
THE PLAYBOY CLUB premiered Sept. 20 to a 1.6 rating in the 18-49 age group and dropped to a 1.2 rating by its third episode. CASTLE with a 2.6 rating and HAWAII FIVE-O with a 3.2 rating left THE PLAYBOY CLUB in the dust. The sponsors who left the show included Kraft, Sprint, Lenovo, UPS, Subway, and Campbell's Soup.
Movieguide®, Morality in Media and The Parents Television Council encouraged audiences to avoid the show and to contact the show's advertisers.
Comcast recently purchased majority ownership of NBC/Universal. For the last two years Universal has been the last of the six majors in box office and NBC is behind CBS and ABC in the ratings. Comcast would be wise to move NBC and Universal away from their BRUNO and PLAYBOY leanings.
Founded in 1985, Movieguide® is The Family Guide to Movies and Entertainment. As such, it's a non-profit ministry "dedicated to redeeming the values of the entertainment industry according to biblical principles by influencing industry leaders and informing and equipping the public about the dangers of immoral sex and violence in entertainment."
Dr. Baehr said the cancellation of THE PLAYBOY CLUB and Movieguide®'s Annual Report to the Entertainment Industry, which analyzes the financial success and failure of movies, have shown that moviegoers and television viewers, far more often than not, reject movies and programs that promote sexual immorality.
He concluded, "This abhorrent show promoting Hugh Hefner's degradation of America's moral fabric may be canceled, but we still have a lot of work to do in cleaning up the entertainment industry."
Tax deductible donations to Movieguide® may be made by calling 1-800-899-6684 or by clicking the Internet link at https://www.movieguide.org/donate.
For more information, please call 1-888-248-6689.