"A Sentimental Story of Love and Loss"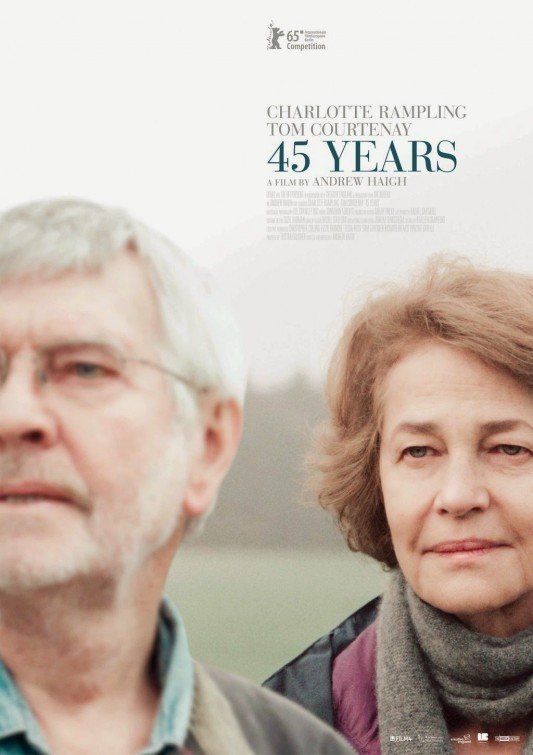 | | None | Light | Moderate | Heavy |
| --- | --- | --- | --- | --- |
| Language | | | | |
| Violence | | | | |
| Sex | | | | |
| Nudity | | | | |
What You Need To Know:
In 45 YEARS, a retired couple questions their relationship in the week leading up to their 45th wedding anniversary. As the movie opens, Geoff ("Jeff") and Kate Mercer are living a quiet retired life in rural England. In the week leading to their anniversary, they are planning a big celebration. Geoff receives a letter from German authorities saying they've located the body of his deceased fiancée, who fell into a glacial crevasse on a 1962 backpacking trip. Kate suddenly finds herself competing with Geoff's memories of his past love. She begins to question their long marriage.
Based on a short story by David Constantine, 45 YEARS moves as slowly as it probably reads. The plot is paced day-by-day throughout one week, culminating in a big marriage celebration. Tom Courtney and Charlotte Rampling do a good job portraying a realistic couple, but the ending is unsatisfying. The main issue is Geoff's lack of honesty. This causes Kate to doubt the genuineness of their marriage. Regrettably, 45 YEARS is rated R and contains some foul language and a bedroom scene. So, MOVIEGUIDE® advises extreme caution.
Content:
(B, Ev, LL, V, SS, N, A, D, M) Characters seem to be aware of certain moral standards even though they don't always subscribe to them; reference to humans "evolving" and a reference to a book about Charles Darwin; total of 15 obscenities and profanities, a man vomits on the side of the road but no vomit is shown; story is told about a woman falling from a glacier to her death; married couple depicted in bed together having sex; upper male nudity while in underwear only; some wine drinking at meals and parties; cigarette smoking in several scenes; husband keeps information about his past from his wife, husband breaks a promise to his wife, an unmarried couple lived together in the past and are going to have a baby.
More Detail:
In 45 YEARS, a retired couple begins questioning their relationship in the week leading up to their 45th wedding anniversary.
As the movie opens, Geoff and Kate Mercer live a quiet life of retirement in a rural area outside Norfolk, England. Kate often takes early morning walks across the misty countryside while her husband sleeps late and then takes to the kitchen table for his morning tea.
It's on such a routine occasion that, one week out from the 45th wedding anniversary they're planning, Kate comes in from her walk to find Geoff hunched over a letter held in one hand and a cup of tea in the other. The look on his face compels her to cautiously sit down and ask what's happened. He tells her the letter is from Germany: they've found Katya's body. Kate is confused until Geoff reminds her of his deceased fiancée who fell to her death into a glacial crevasse when the pair was on a hiking expedition in 1962.
"I know I've told you about her before," Geoff says to ease the apparent tension between them.
Though Kate recalls him mentioning his past love, she's concerned that he'll want to travel to Germany to help the authorities identify the body, and he's in no physical condition to do so. Moreover, their anniversary is only a few days away.
Although it takes Geoff the better part of the movie to decide whether he's going, Kate's concerns turn to those of a different breed as she learns more intimate details about Geoff and Katya's relationship. As the week progresses and more arrangements are made for the party, Geoff's fixation on his past heightens Kat's doubts about the genuineness of their marriage. The discovery of a secret that Geoff is keeping from her elicits compassion for his plight but also feeds her growing mistrust, widening the gap between them. Will they be able to overcome the uncertainty of their future together in the midst of this issue?
Based on David Constantine's short story "In Another Country," 45 YEARS moves slowly, day-by-day, through a snapshot week of this couple's 45-year marriage. It's set in their retirement years, and that's exactly what the pace feels like here. Each day of the week, Kate learns something new of Katya as Geoff incrementally offers new insights into his past relationship. Viewers may not be able to help feeling sorry for both people in their own way: Geoff for the loss that he hasn't completely left in the past; and, Kate who must now live in Katya's shadow and wonder if she's the one Geoff settled upon after losing his true love. Both Tom Courtney and Charlotte Rampling should be commended for such a realistic and sentimental performance of an endearing married couple. However, the ending is something of an unsatisfying head-scratcher.
45 YEARS celebrates the sanctity of a long and loving marriage, but it's tainted with a measure of dishonesty on Geoff's part. He hasn't been completely forthcoming about Katya from the beginning, and he slowly volunteers more and more information as the movie continues. His intentions aren't to deceive as much as they are to protect their marriage from the unresolved feelings he thought he'd left in the past. Both Geoff and Kate seem committed to each other, but Kate struggles with trust for most of the movie as their 45-year marriage suddenly feels to be in jeopardy.
Rated R, 45 YEARS also has some foul language and a moderately graphic sex scene between Geoff and Kate as they try to rekindle their romance. So, MOVIEGUIDE® advises extreme caution.