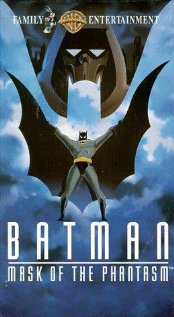 | | None | Light | Moderate | Heavy |
| --- | --- | --- | --- | --- |
| Language | | | | |
| Violence | | | | |
| Sex | | | | |
| Nudity | | | | |
What You Need To Know:
BATMAN: THE MASK OF PHANTASM (THE ANIMATED MOVIE) is an animated feature in which the main characters struggle between their passion for their work and their passion for each other. Andrea seeks blood and revenge, and Batman seeks justice without killing. The movie does not portray healthy Christian relationships, but relies instead on violence and romance to limp to a somber ending.
Content:
(NA, A/D, L, S) Pagan worldview; 1 profanity & no obscenities; implied adultery between Bruce Wayne & Andrea Beaumont; and, ample violence in several scenes--a little blood, no gore.
More Detail:
In BATMAN: THE MASK OF PHANTASM (THE ANIMATED MOVIE), Bruce Wayne (Batman), still in Gotham City, visits the grave site of his deceased parents to "invoke" them and receive an answer as to whether he should seek a life of romance with Andrea Beaumont (the Angel of Death), or continue crime fighting in the violent city. In turn, Andrea Beaumont (Andi) also visits her parents' gravesite to decide between her life as a vigilante (Angel of Death) and her desire to pursue romance with Bruce Wayne.
The animation of this film does not meet the quality of a good Disney film such as BEAUTY AND THE BEAST. The plot is difficult to follow, and the flashback is poorly handled. Alfred (the butler) does thank "heaven" that Batman is not overwhelmed by evil like Andrea. On the other hand, the film contains plenty of violence. The "biff, boom, bam" are replaced with blood on the characters. Although Batman never kills anyone, he overcomes his evil adversary by punches, kicks and other bat devices or paraphernalia. The Angel of Death kills her evil victims while proclaiming that their evil on earth is finished. There is one instance of implied fornication and one irreverent reference to the deity. Add plenty of violence from the mob, the Joker, a confusing flashback, and a somber anti-climactic ending, and you have BATMAN: THE ANIMATED MOVIE.