"Politically Correct Clash Between a Have and a Have-Not"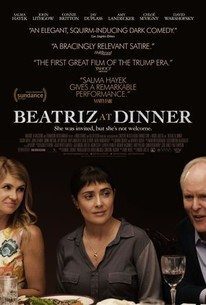 | | None | Light | Moderate | Heavy |
| --- | --- | --- | --- | --- |
| Language | | | | |
| Violence | | | | |
| Sex | | | | |
| Nudity | | | | |
What You Need To Know:
BEATRIZ AT DINNER begins after a New Age, Mexican massage therapist's car breaks down at one wealthy client's home. Beatriz is invited to stay for dinner until she can have someone tow her car away. Beatriz dines with a group of six very powerful people in society, including an egotistical, selfish real estate mogul who owns a chain of hotels. As dinner continues, Beatriz realizes this man has a corrupt soul. She convinces herself he's the same man who tore her family apart in Mexico and decides the world would be better off without him.
The characters in BEATRIZ AT DINNER are perfectly cast. However, the storyline has flaws. When Beatriz is stressed, she telephones someone, but it's never revealed who it is. Beatriz speaks Spanish on the phone and to herself, but subtitles are used infrequently, making it hard to follow. Finally, the movie has an unresolved, unsatisfying ending. Ultimately, BEATRIZ AT DINNER is an abhorrent, politically correct, pagan movie with New Age, anti-capitalist, environmentalist elements. It also has some strong foul language and a scene of extreme fantasy violence.
Content:
(PaPaPa, RoRo, PCPC, AcapAcap, FRFR, EE, HH, LL, VVV, S, AA, D, MM) Very strong, somewhat mixed pagan worldview with a Romantic, politically correct, anti-capitalist, stereotypical, false, leftist view of a real estate mogul character designed to remind viewers of Pres. Donald Trump, where woman has a New Age, non-traditional belief system, uses "energy" techniques and yoga and meditation as her source of faith, has statues of Buddha and candles with essential oils scattered around her home, and worships the Earth with an environmentalist, eco-fascist fervor, plus some humanist elements stating that man has no soul, antagonist (the real estate mogul) in movie believes life is short so one should take all the pleasure they can get in life, man has no belief of an afterlife or God, man is out for himself and abolishes anything standing in his hedonistic pagan pursuit for more money and wealth; several profanities, 16 obscenities (mostly "f" words) and one GD; extreme violence includes [SPOILER ALERT] graphic possible fantasy scene where a woman stabs man in the neck with knife and man bleeds profusely, and blood streams everywhere, plus a disturbing image of a man killing a rhino, and character throws cell phone; sexual promiscuity implied, man tells friends he's on his third wife (implying past marital problems), and husband and wife kiss; no nudity; men and women drink frequently and to the point of excess (including serving themselves lots of alcohol during dinner), man with kidney stones says he shouldn't drink but continues to do so, woman drinks six glasses of wine and takes a bottle to her bedroom to drink more; light smoking includes men smoke cigars after dinner; and, strong miscellaneous immorality include bad role models, excessive greed, bad leaders, and racism, but rebuked in a false politically correct leftist way (see above).
More Detail:
In BEATRIZ AT DINNER, leading lady Salma Hayek plays Beatriz, an Hispanic massage therapist and holistic healer living in Los Angeles. She lives alone with her beloved goats and makes her living healing people with "energy," meditation techniques and massage therapy. One afternoon Beatriz goes to give Cathy, one of her wealthy clients, a massage. When she's finished, Beatriz discovers her rundown car won't start. Beatriz has a special relationship with Cathy because she helped heal her daughter get through chemo therapy when she got cancer, so Cathy invites her to stay the night for their dinner party.
Beatriz, an Hispanic woman with a thick accent, is thrilled to be part of the dinner engagement. She makes herself at home, giving herself a tour of the house while indulging in too many glasses of white wine. When the guests arrive for cocktail hour, Beatriz meanders to the women and men's conversations. These are pivotal scenes, although humorous, they are very eye-opening and shed light on the extreme contrast in way of life for a single Hispanic woman and a wealthy Caucasian couple living in LA.
As the dinner party continues, Beatriz begins to question these people's way of life. Mega-successful real estate mogul and hotel owner, Doug Strutt, is the primary focus for the dinner party. Cathy and her husband have planned the entire evening around him, to honor and thank him for his line of work, which helped pay for their house. Strutt (John Lithgow) is loud, opinionated, egotistical, and has strong opinions about illegal immigrants in America. It's no coincidence everything in him embodies President Donald Trump.
SPOILERS FOLLOW: Over dinner Beatriz becomes convinced Strutt is the same seedy business owner that built a chain of hotels in Mexico that displaced her family when she was a young child. She sneaks away with a bottle of wine (she does not need) and looks him up on the Internet, convincing herself he's the Enemy and that the planet doesn't need his evil "energy" in it. Eventually, she throws a cell phone at Strutt's head in all her rage for his devilish practices and is asked to leave the party.
While Beatriz waits outside for the tow truck, Strutt walks outside to make a phone call. Beatriz and Strutt are alone for the first time all night. In this moment, one hopes Doug will have a change of heart for his dirty work. Doug does not. He describes life as one that should be lived full of pleasure since we all die one day. Doug turns away, but Beatriz is not done with him. She stabs him with a knife, and the audience sees him dead. Flash forward to the same scene. The movie suggests Beatriz has only killed Strutt with her mind, not in reality.
The movie ends with Beatriz swimming in the ocean and a beautiful nature shot of her in a canoe. This ending, lends itself to the confusing plot and unresolved conclusion. What really happened to Beatriz and Strutt? Maybe Beatriz did kill him after all; or, maybe not.
Though BEATRIZ AT DINNER tries to round out Beatriz and Strutt's characters so the movie's not so one-sided, it doesn't really succeed. For instance, the humorless Beatriz is clearly wound a little too tight, and Strutt at one point tries to get her to loosen up and enjoy life. However, ultimately, BEATRIZ AT DINNER presents a politically correct, anti-capitalist, leftist worldview of the clash between the callous, selfish, greedy real estate mogul and the Earth-worshipping Mexican immigrant with the New Age, Buddhist, environmentalist, anti-capitalist belief system. Though the real estate mogul clearly is designed to resemble Pres. Trump, he's got a more humanist worldview than the positive references to God and religious freedom for Christians Trump has expressed. Finally, despite some strong performances, the ending is too confusing and unsatisfying.
B
EATRIZ AT DINNER also contains some strong foul language and brief extreme violence. This content, and the movie's politically correct and New Age views make for an abhorrent combination.