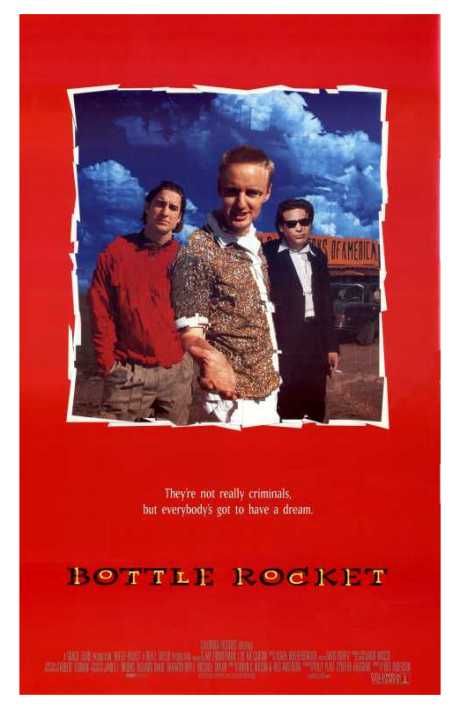 | | None | Light | Moderate | Heavy |
| --- | --- | --- | --- | --- |
| Language | | | | |
| Violence | | | | |
| Sex | | | | |
| Nudity | | | | |
What You Need To Know:
BOTTLE ROCKET is not about fireworks carelessly shot from a bottle, but rather a clever metaphor for a group of Generation Xers who gets their kicks from the thrill of crime. Depicting three twenty-somethings doing crime because they don't know what else to do, it is a witty social commentary using some violence and foul language.
Content:
(Pa, LL, VV, SS) Pagan worldview; moderately strong language including 15 obscenities & 10 profanities; minor acts of violence including gunfire, but no murder; illicit sex; and, no nudity
More Detail:
BOTTLE ROCKET is not about fireworks but rather a clever metaphor for Generation Xers who derive their motivation from the thrill of crime. Three boys have grown up together and now find themselves in their twenties, socially dislocated and facing an identity crisis. As the movie begins, Anthony is about to check out of a psychiatric hospital where he had been committed after an emotional breakdown. His best buddy Digman has met up with some shady characters and decided to pursue a life of crime. After talking their other best friend Bob into joining them on a minor heist, the trio successfully execute their first crime, an armed robbery at a local bookstore. Subsequently, they find themselves on the lam. Before they can blink an eye, however, circumstances begin to work against them. One crises after another rocks the unity of the team.
BOTTLE ROCKET plays like an arty student production, attempting too much and accomplishing too little. In the end however, this film manages to bring to the screen one of the more intelligent scripts of recent years. BOTTLE ROCKET is able to take a poignant, often funny look at the philosophical quandary our society finds itself in today, but it is unable to give us any meaningful solutions.