"Learning To Do the Right Thing"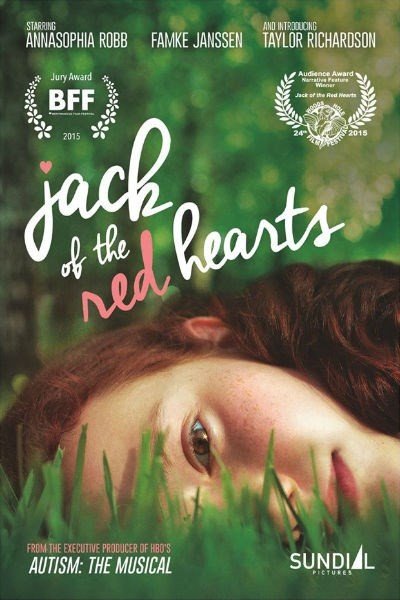 | | None | Light | Moderate | Heavy |
| --- | --- | --- | --- | --- |
| Language | | | | |
| Violence | | | | |
| Sex | | | | |
| Nudity | | | | |
What You Need To Know:
JACK OF THE RED HEARTS is the heartwarming tale about Jack, short for Jaquelyn, an 18-year-old con artist trying to free her younger sister from the foster care system. After breaking her sister out of every foster home she's been placed, Jack is forced to play by the rules and legally gain custody of her sister. In order to do this, Jack cons a family into hiring her to care for their 11-year-old autistic daughter, Glory. Jack gets more than she expected, however, when she begins to care for this wonderful girl.
JACK OF THE RED HEARTS has a strong moral worldview, with positive themes of family and caring for others. The movie does a beautiful job showing what a family goes through when caring for an autistic child, but it also shows how intelligent and wonderful such children can be. There is a lot of foul language and some underage alcohol use, along with some juvenile delinquency. So, extreme caution is advised for concerned viewers. Otherwise, JACK OF THE RED HEARTS is a movie aimed at older mature viewers.
Content:
(BB, C, LLL, S, AA, D, M) Strong moral worldview, with some redemptive elements, about learning to care for others more than yourself and learning to tell the truth; 27 obscenities (including many "s" words); no violence; light sexual reference when teenage boy sees beautiful girl, plus two scenes of teenagers kissing, and one scene of married couple kissing, one sexual reference; no nudity; teenage alcohol use; two scenes of main character smoking cigarettes; and, main character kidnaps younger sister, girl runs away from probation officer, girl steals candy bar, girl steals someone's book, and girl steals lady's wallet and forges a signature.
More Detail:
JACK OF THE RED HEARTS tells the story of a teenage con artist named Jack, short for Jaquelyn. JACK OF THE RED HEARTS is a heartwarming story about family relationships and doing the right thing, but there's too much foul language.
Jack, who just turned 18, will do anything to be with her little sister, including breaking her out of every foster home she's been placed. When her sister gets taken from her again, Jack has to figure out a way to gain custody of her sister within the rules of the system. The only problem is, getting a job with her criminal record is much harder than she expected, and she has no decent place to live. When Jack sees an advertisement for a family in need for a companion to their autistic daughter, Jack thinks she's saved.
With the help of her friend, Jack cons the family into thinking she's Donna, a therapist for special needs children. The family thinks she's a perfect fit and hires her immediately.
Glory is an 11-year-old autistic girl, who's fascinated with the sun and high places. Her mother, Kay, has been trying to help her get into a good school, but is somewhat living in denial about how serious her daughter's condition is. Glory's condition has torn apart her marriage and her relationship with her 17-year-old son, Robert.
When Jack moves into the family's home, she thinks the job will be easy, but she doesn't care much for Glory. Robert instantly falls for Jack when she begins working for the family, but he believes she's much older than she really is. After only a few days of training, Kay goes back to work and leaves Jack on her own with Glory.
At first, Jack ignores Glory and treats her terribly. Robert quickly catches on that perhaps Donna/Jack is not as qualified for the position as his mother believes, but because of his feelings towards Jack, he keeps his opinions quiet.
After working with Glory for a few weeks, Jack realizes how special and smart the girl actually is. She begins to actually care for Glory and realizes how fulfilling it is to help her learn. When Glory gets the opportunity to interview for the best special education school available, Jack works especially hard to help the girl prepare for her interview. Everything seems to be looking up for Jack, but she can't hide her identity forever if she wants to get her sister back.
JACK OF THE RED HEARTS is a heartwarming movie, filled with themes of family, loving others before yourself and choosing to do what is right. There are many beautiful shots in the film, and Taylor Richardson, who plays Glory, does a beautiful job bringing a young autistic child to life. Also, the movie strongly highlights what a family goes through while raising a child with disabilities, but also shows how amazing these children can be.
Because of the foul language and some underage alcohol use, extreme caution is advised, but, otherwise, JACK OF THE RED HEARTS is a movie aimed at older mature viewers. Delete at least half of the foul language, and JACK could be a more family-friendly movie.