"Coming to Grips with God's Relentless Mercy"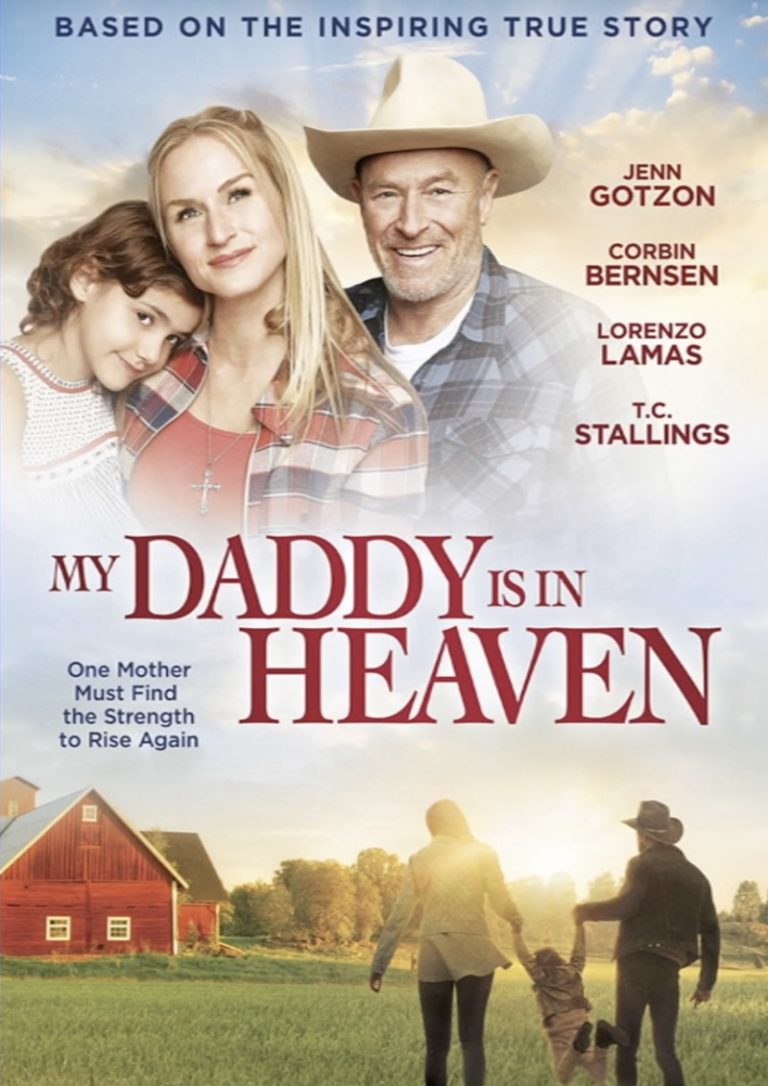 | | None | Light | Moderate | Heavy |
| --- | --- | --- | --- | --- |
| Language | | | | |
| Violence | | | | |
| Sex | | | | |
| Nudity | | | | |
What You Need To Know:
MY DADDY'S IN HEAVEN describes how a young father's tragic accidental death breaks his family apart. It also leads his young widow to the depths of bitterness and blasphemy, before one last encounter with God's relentless grace. After her husband's death, Becca abandons her daughter and goes to live a profligate lifestyle with her big city friend, June. Meanwhile, the daughter and her grandparents struggle to hold onto their faith and their family farm.
The movie's generally good performances, great soundtrack and powerful cinematography complement its strong biblical worldview and Christian message. The director deserves credit for making the acting startlingly realistic. At times, it looks as if Jenn Gotzon released home movies of her own grieving process. Also, Corbin Bernsen excels in every scene. Most of the comedic relief works well thanks to Jill Morrison's timing. That said, there are some uneven scenes in MY DADDY'S IN HEAVEN. Also, depictions of the mother's hedonistic lifestyle before she returns to her faith warrant caution for older children. Ultimately, MY DADDY'S IN HEAVEN is an average but entertaining and compelling movie.
Content:
(CCC, BBB, AbAb, Pa, VV, S, AA, M):
Dominant Worldview and Other Worldview Content/Elements:
Very strong Christian, biblical worldview includes seven prayers (with no fewer than four mentioning Jesus by Name), five scenes prominently featuring a cross and another three scenes with Bibles, 12 references to "God," the "Lord," or our "Maker," one scene showing a believer leading a dying man to faith in Jesus, but movie also features a fully articulated humanistic worldview denying the existence of God or the afterlife, throwing a cross and a Bible on the floor, and denying God's goodness, providence and mercy, but all ultimately rebuked;
Foul Language:
No foul language but mild vulgarities include the word "tush," one instance of non-profane name-calling, and one off-color reference;
Violence:
Father's death scene features some blood and may scare young children, there are two slaps (including one of a police officer) and the beginning of a non-graphic, attempted rape;
Sex:
The movie's sexual content includes a husband and wife flirting, two kisses, heavy flirting, and two references to off-screen premarital sex;
Nudity:
No nudity but four scenes featuring a very light glimpse of female cleavage;
Alcohol Use:
Two scenes are shot in a bar, and two additional references to drinking take place inside a home;
Smoking and/or Drug Use and Abuse:
A syringe and drug paraphernalia are shown as a young man dies of an opioid overdose; and,
Miscellaneous Immorality:
Main character steals $20 and becomes surly with an employee and twice it's implied that characters disregarded a mother's instructions on raising her daughter.
More Detail:
MY DADDY'S IN HEAVEN is a Christian drama about a tragic death that leads a family to breakdown, backsliding and, eventually, healing in Christ. Realistic performances, a top-notch soundtrack, and good cinematography strengthen the movie's strong proclamation of God's mercy. However, the movie's depiction of doubt, blasphemy, and fast living make this a movie to be watched by teenagers and adults with caution, and the overall quality makes the movie about average.
The movie begins with Becca, Adam and their five-year-old daughter, Acie, celebrating the Fourth of July at a family picnic. A tragic accident leaves Adam clinging to life. When he dies despite Becca's heartfelt prayers offered in Jesus' Name, it sends her spiraling into a vicious cycle of depression, grief and anger at God. An old friend invites her to join her in the city, where she introduces Becca to a new life of alcohol, casual sex and pure hedonism. Meanwhile, Acie and her grandparents cling to Jesus, and each other, to get through both parents' absence, just as a sudden crisis threatens to take away their livelihood.
Will Becca give in to bitterness or return to her faith? Will the grandfather lose his family farm? Will the bereaved little girl ever understand her father's death?
The movie's Christian message will resonate with people of faith but may not convince non-believers. The director deserves credit for making the acting startlingly realistic; at times, it looks as if Jenn Gotzon released home movies of her own grieving process. Corbin Bernsen excels in every scene. Most of the comedic relief works well, thanks especially to Jill Morrison's timing. The soundtrack by Justin Peters hits all the right musical and emotional notes, and the cinematography adds depth to nearly every scene in an unobtrusive manner. The depiction of the confusion and listless depression that can follow death is on target. However, a few of the comical scenes are played too lightly (especially by Lee Benton, who shines best in her single dramatic scene), and the movie's Yankee and Canadian cast speaks in Southern accents that are inconsistent.
MY DADDY'S IN HEAVEN plunges into the emotional trauma of death from a biblical and evangelical Christian worldview. The movie features multiple scenes of crosses, talks about the importance of the Bible and churchgoing, and proclaims the Gospel message of salvation by accepting Jesus Christ in your heart, all without artificially straining the narrative. However, the "prodigal" portion of the story articulates a full-blown hedonistic worldview, and Becca commits blasphemy in her pain and anger. The blasphemy, atheism, alcohol abuse, partying, flirting, and casual sex require caution. Ultimately, this bridge highlights the importance of repenting, accepting God's will and embracing the Lord's relentless grace in the pits of despair.
Adam's death may be scary to some younger viewers. The "prodigal" portion of the story features the early stages of an attempted rape, which, while not graphic, may disturb any viewer.
MY DADDY'S IN HEAVEN takes its theology seriously, but a few miscues and uneven scenes make the movie an average but compelling movie with an extraordinary message.