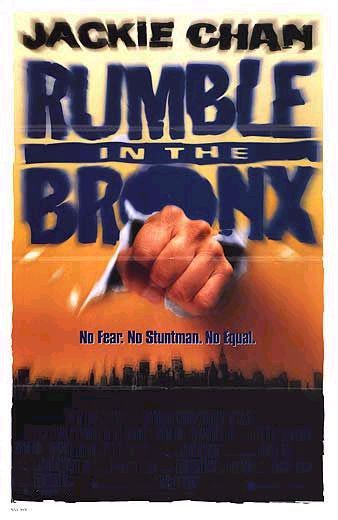 | | None | Light | Moderate | Heavy |
| --- | --- | --- | --- | --- |
| Language | | | | |
| Violence | | | | |
| Sex | | | | |
| Nudity | | | | |
What You Need To Know:
In RUMBLE IN THE BRONX, martial arts legend Jackie Chan battles New York mafia and jewel thiefs. It is a non-stop ride of entertainment that will have audience members jumping and dodging punches, gasping at death defying stunts and laughing at the silly plot. This is not a film for children and although highly entertaining, the nature of the violence and content should be considered strongly when dealing with young audiences.
Content:
(Pa, B, LL, VV, NN, M, Ro, D, A) Pagan worldview yet depicting a sister struggling to care for handicapped brother on her own; 15 obscenities; extensive martial arts fist fighting & one-on-one combat, police officers get killed, bottle smashed against wall & man cut up with bloodshed, muggings, extortion, gang member hits female, & child gets hit by mafia stooge; male rear nudity; drug dealings; drinking; smoking; and, romantic elements.
More Detail:
RUMBLE IN THE BRONX is the latest movie from martial arts legend Jackie Chan. Vacationing Hong-Kong police officer Jackie Chan comes to America to attend his uncle's wedding. He gets caught up helping Elaine who buys a supermarket from Uncle Bill. The neighborhood has been terrorized by bikers who have been stealing from the store for years. Chan finds himself running from one encounter to another as the biker gang chases him all over town. The plot thickens as one of the gang members steals some diamonds and hides them in a cushion of a handicapped boy's wheelchair. With all the main characters now indirectly linked, the chase doesn't stop until the Mafia boss is toppled.
True martial arts enthusiasts will love the highly detailed choreographed scenes and commitment to producing high quality martial arts sequences. Some of these took as many as 200 takes to finish. The action keeps viewers on the edge and laughing at the same time. Some of the stunts were pretty funny, like when Chan gets run over by the Hovercraft. With an actor who does all his own stunts and a director who tries them before the actors, there always seems to be something unique happening on screen. Most audiences will find something they can enjoy about the film. However, this is not a film for children, and the nature of the violence should be considered when dealing with young audiences.