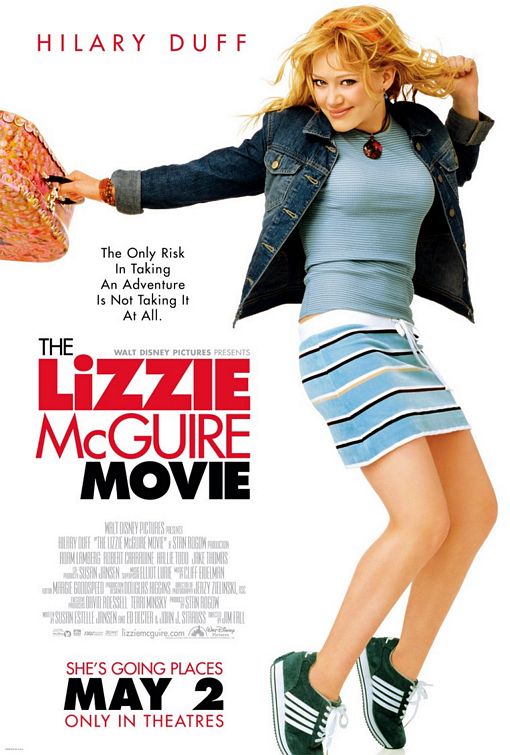 | | None | Light | Moderate | Heavy |
| --- | --- | --- | --- | --- |
| Language | | | | |
| Violence | | | | |
| Sex | | | | |
| Nudity | | | | |
What You Need To Know:
In THE LIZZIE MCGUIRE MOVIE, Lizzie's class trip to Rome turns into a dream-come-true as she is mistaken for a popular singer and invited to take part in an elaborate ruse. The movie is fun and clean, lending itself to a good discussion about the pursuit of greatness and fame.
Content:
(BB, C, Pa, L, V, M) Moral worldview extolling self-sacrifice and honorable behavior in courtship, with some pagan elements with the extolling of "The 3 G's - gold, glory, and guys/gals," especially with emphasis on attaining fame; very mild language with a few "Oh, my God's" and someone is called "Dorkella"; violence is light and slapstick in nature; and, sneaky children deceive parents and chaperones and junior high principal, shown very briefly, acts effeminately.
GENRE: Drama/Comedy
BB
C
Pa
L
V
M
More Detail:
Disney's THE LIZZIE MCGUIRE MOVIE exhorts teenagers with Shakespeare's words, "Be not afraid of greatness. Some are born into it, some achieve it, and others have it thrust upon them."
It doesn't appear that greatness is in the making, though, for junior high schooler Lizzie McGuire, the klutzy, insecure blonde who royally botches her school's graduation ceremony and sends curtains falling over the whole graduation class. To escape the sheer embarrassment, Lizzie signs up for the class trip to Rome, which is headed by the scary, eagle-eyed Miss Ungermeyer (Alex Borstein). Her pals Gordo, Ethan and Kate go along, too, and Lizzie and her best guy friend, Gordo, vow to find true adventure, despite Miss Ungermeyer's drill-instructor ways.
The members of the class close their eyes, make a wish and toss coins into the famous Trevi fountain. Instantly Lizzie sees a handsome young man, Paolo (Yani Gellman), smiling at her and asking, "Isabella?" (At these poignant moments, Lizzie's little cartoon self imagines somersaults and floating hearts.)
It turns out that Paolo is mistaking Lizzie for Isabella, the estranged member of his Italian pop duo, and he asks her out on a date. In order to do the date, though, Lizzie must jump through hoops to pretend to be sick. When she manages to fake out Miss Ungermeyer, she escapes the hotel and takes a ride on Paolo's motorcycle, enjoying the ancient historical sights of beautiful Rome. Paolo explains to Lizzie that his former partner, Isabella, is not able to sing at the International MTV awards, and he would actually like to train Lizzie to take her place. Lizzie goes wild with excitement and fear, and, during their song and dance training, begins to fall for Paolo.
To keep up the ruse, though, she must enlist the help of her best buddy Gordo, and even the help of her former enemy, Kate. Soon, Lizzie's picture is all over the papers, and fans are abuzz with the resurfacing of the famous Isabella. Back in America, when Lizzie's mom, dad and annoying brother Matt get wind of the hoopla, they all jet their way to Italy. In the meantime, Lizzie is transformed from a gawky teen to a beautiful pop star, Gordo struggles to understand his true feelings for her, and a whirlwind of surprising events forces Lizzie to find the true meaning of friendship.
THE LIZZIE MCGUIRE MOVIE is a fun adventure fantasy that teenagers everywhere will enjoy. It is almost completely devoid of foul language, violence, sex, and nudity, but it does carry the theme that ordinary kids can be famous if greatness is thrust upon them. Though not a heavy-handed or preachy theme, Christian viewers might want to discuss the Bible's warnings about the lust of the flesh, the lust of the eyes, and the boastful pride of life. The "3 G's," – gold, glory, and guys/gals – can be fleeting pursuits that drive children off the godly tracks of servant leadership and kingdom-mindedness.
On the other hand, to balance the worldview cautions, good parents should inspire their teenagers with such sayings as Teddy Roosevelt's, "Far better to dare mighty things, to win glorious triumphs, though checkered by failure, than to take rank with those poor spirits who neither enjoy much or suffer much because they dwell in the gray twilight that knows neither victory nor defeat." The "risk equals reward" theme just needs to come within the context of God-given dreams, not the compelling allure of the world's system.
The story is a bit soft on deceit, which is portrayed in a humorous and mild way but thankfully rebuked by the parents at the end. There is also a scene of an effeminate principal, but it is also brief.
Overall, the filmmakers are to be congratulated. THE LIZZIE MCGUIRE MOVIE proves that movies can be fun and entertaining without grossing out young audiences or bombarding their minds with the pollution of foul language, sex and violence. The characters are solid, and the casting is excellent, especially Hilary Duff's dual roles as Lizzie and Isabella, and the supporting role of the tough Miss Ungermeyer (Alex Borstein).
The character of Gordo (Adam Lamberg) shows great self-sacrifice as he takes Lizzie's punishment upon himself, and all the "romance" scenes are tasteful and sweet, extolling the virtue of acting honorably with the opposite sex. Kate's character shows that even snotty, popular girls can turn into true friends and allies.
Please address your comments to:
Michael Eisner, Chairman/CEO
Buena Vista Distribution Co.
(Walt Disney Pictures, Caravan, Hollywood, Miramax, & Touchstone Pictures)
Dick Cook, Chairman
Walt Disney Pictures
500 South Buena Vista Street
Burbank, CA 91521
Phone: (818) 560-1000
Website: www.disney.com